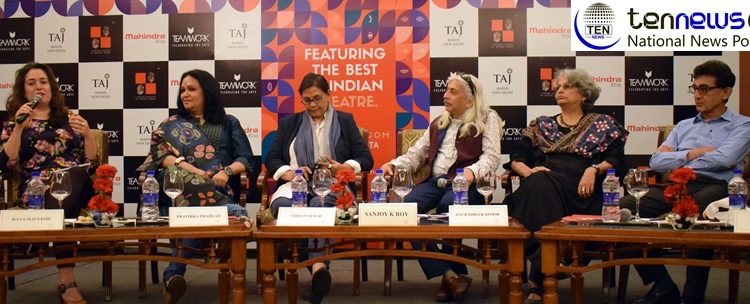 13th Mahindra Excellence in Theater Awards to be held in Delhi on April 13
kashif Hasnain (Photo/Video) Lokesh Goswami Delhi
New Delhi: The 13th edition of Mahindra Excellence in Theater Award (META) festival 2018 is going to kick off from April 13 in Delhi with an association of Teamwork Arts & Festival Producer.

Head of Cultural outreach, Mahindra & Mahindra Ltd, Jay shah announced during a press conference in Delhi.
In the week-long Mahindra Excellence in Theatre Awards (META) and Festival to be held from April 13th to 18th, 2018 at New Delhi's Kamani Auditorium and Shri Ram Centre, where the ten-shortlisted plays from 330 entries will be performed for jury members as well as theatre lovers in the Capital.

The comprehensive awards for theatre in India, META will present awards in 13 competitive categories, in addition to the Lifetime Achievement Award to the living legend of the theater personality.
This year META 2018 Lifetime Achievement Award will be conferred to veteran lndian film and theatre director, Vijaya Mehta, Founder Member of the theatre group, Rangayan, and a leading figure in the experimental theatre of the 1960s.
The awards will be presented at the Red-Carpet Awards Night to be held on April 19 to celebrate the best of lndian theatre from the past year.
The jury for the 13th edition of the Awards are director and former Chairperson of the National School of Drama Amal Allana, popular film and theatre actor and theatre director Lillete Dubey, theatre director and professor of theatre at the Punjab University, Neelam Man Singh Chowdhry, film maker, actor, theatre director and writer Rajat Kapoor, theatre, film and television writer director, Ranjit Kapoor.
While speaking in the event, Cultural Outreach, head of Mahindra & Mahindra Ltd Jay shah, said, "META remains India's most definitive platform to recognise theatrical talent. For more than a decade, it has brought together the very best of theatre productions from across the country. There is a multitude of talent in this art form which is the source code of all performing arts and the Mahindra Group is proud to present META each year as an inclusive, empowering, and prestigious canvas. "
Following the event, MD, Teamwork Arts & Festival Producer, Sanjoy K Roy said, "META is a celebration of the artistic diversity of our Indian stagecraft and every year we strengthen our commitment of providing opportunity and access to the dents talent out there. This year theatre enthusiasts can participate in workshops and masterclasses held by META nominated theatre stalwarts"
At last, META Festival also hosted a topical discussion 'Do Festivals and cultural platforms benefit the Arts and Theater?' in which noted artists, directors and other personalities of theater background took part.