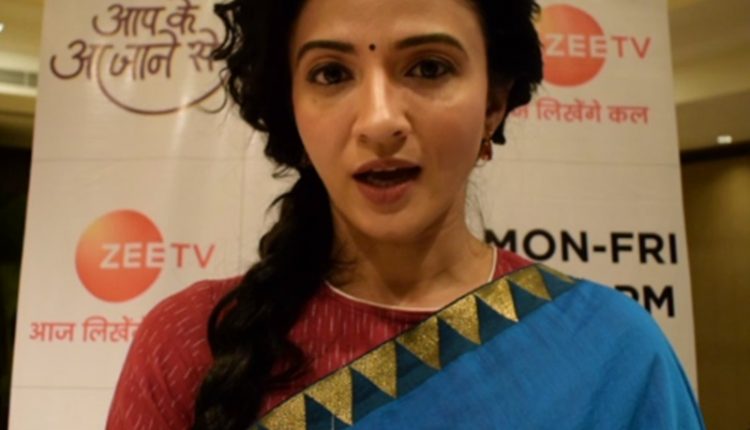 Aap Ke Aa Jaane Se' actress Suhasi Dhami promots her serial on Valentine's week in Delhi!
Kashif Hasnain (Photo/Video) By Lokesh Goswami Ten News Delhi :
New Delhi: Lead actress of Zee TV's Aap Ke Aa Jaane 5e Suhasi Dhami brings in Valentine's Day in Delhi!
Zee TV's 'Aap Ke Aa Jaane Se' is an unconventional love story of a 42-year-old strong, independent single mother Vedika Mathur (Suhasi Dhami) and a 24-year-old non-conformist, fun-loving and free-Spirited young man Sahil Agarwal (Karan Jotwani). With nothing in common except for their unflinching love for each other, the two will embark on a journey to dismiss societal pressures and prove that they do not need a 'Licence to Love'.
With a strong and hard-hitting concept, Aap Ke Aa Jaane Se has been impressing viewers with its unique storyline. Currently, the show highlights Sahil's deep-rooted feelings and romantic inclination towards Vedika. To bring in Valentine's Day, the show's lead actress Suhasi Dhami visited New Delhi today. Produced by Bodhi Tree Productions, Aap Ke Aa Jaane Se airs every Monday to Friday at 10:30 PM on Zee TV.
Whilst in Delhi, actress Suhasi Dhami interacted with media and shed the light on the show's concept. He also spoke about how age must not be considered a hindrance when it comes to love and that so called societal taboos must not triumph over one's true desires.
Speaking about her visit to Delhi, Suhasi Dhami said, "The concept of Aap Ke Aa Jaane Se is very unique and Vedika's character is very close to my heart. Vedika's character is very strong-willed, she follows her own beliefs, yet her perception is bound by that of the society. However, one strongly believe that love is not bound by perceptions and one doesn't need a license to love. It is a beautiful feeling to be in love with someone and one must cherish every moment of it."
While talking to the Ten News she further said, "I am really excited to be in Delhi today and am really looking forward to shopping at Janpath and picking up some accessories for myself. Also, if time permits I would love to make a quick stop at Chandni Chowk and try out the mouth-watering chaat."