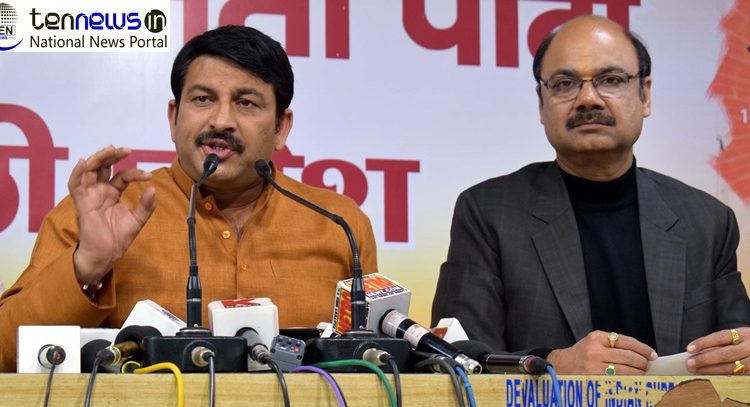 AAP takes Delhi 30 years back, alleged Manoj Tiwari
Kashif Hasnain (Photo/Video) By Lokesh Goswami Ten News Delhi :
New Delhi: Delhi BJP Chief Manoj Tiwari scattered attack on Aam Aadmi Party (AAP) for holding 'Vikash Yatra' and termed it as a 'Vinash Yatra' during a press briefing here on Monday.
While talking to media, he alleged that in last three years AAP has take Delhi 30 years back and the party is indulge in corruption charges till the neck.
"In last three years, the AAP government has took the Delhi 30 years back. The party which came to power because of his stand on the corruption is now on indulging in corruption till his neck even their MLAs," said Manoj Tiwari.
Aam Admi Party is going to hola a Vikas Yatra on the occasion of completing three years in Delhi. The party has planned to conduct rally and advertise the achievements of the Delhi government.
Taking a jibe over the Vikas Yatra Manoj Tiwari said, "This is not vikas yatra but vinash yatra. The government has failed to deliver on every front, education, corruption, health care, development and so on."
He further said that the BJP Delhi will hold a week-long rally to showcase the corruption and failure of AAP government. "We will release 'White paper (Shweat Patr)' and counter the AAP by conducting a week-long rally in Delhi to highlight the AAP government."
Following the event, Tiwari made a sharp comment on AAP Minister Satyendra Jain saying 'Jaha Jaha Satendra Jain, waha waha Vikas Ban'.
"It is proved that Satyendra Jain is indulge in corruption cases, but CM Arvind Kejriwal is vouching for him," Tiwari added.
Commenting over the ex-gratia paid to the AAP government to the kin of Ankit Saxena, who was brutally killed a group of people last week, Tiwari said, "When a Tanzil Ahmad and MM Khan died, AAP has announced 1 crore ex-gratia to the kin but he is giving only Rs 5 lakh to Ankit Saxena's family. This is biasness and I'm demanding AAP government to pay the same amount to Ankit's family."