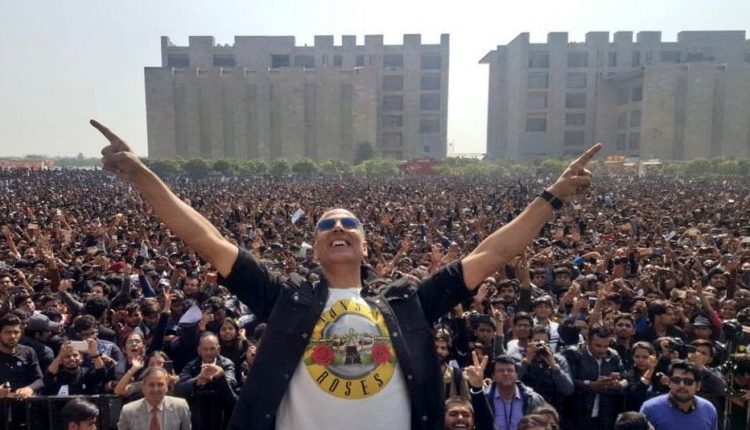 Akshay Kumar Promotes 'Pad Man' at Galgotias University, Greater Noida!
Prerit Chauhan
Greater Noida: On Wednesday, The Galgotias University was graced by promotional event for Akshay Kumar-starrer Pad Man despite the police refusing to provide security for the programme as the Programme clashed with the opening of the Auto EXPO.
The public works department has also denied permission for the proposed venue for a makeshift helipad. Earlier Videos of Akshay inviting viewers to the
event have been posted on YouTube in which the actor can be seen announcing his arrival to the university on February 7 with a Pad Man poster in the background. On Facebook, too, some students of the university have posted about Akshay's attendance at the event.
All the students from the University were in awe of the superstar, Hostel balconies signalling a 'hi' to the handsome actor, to the huge crowd of students. Galgotias University , Greater Noida welcomed Akshay Kumar in a grand fashion.
Kumar's movie is a biopic on Arunachalam Muruganantham, the man who made indigenous sanitary pads accessible to women in rural parts. But this is not the first time Kumar has done a movie with a social message. In fact, it seems to be a trend with him of late. The Khiladi's previous film Toilet: Ek Prem Katha also gave a strong message about problems faced due to open defecation and the need to improve personal hygiene.
The actor was at the University to promote his next Social Drama 'Padman', which releases on February 9, 2018.