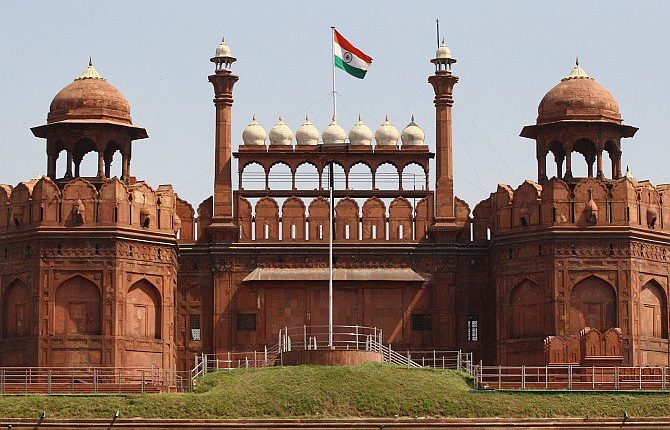 New Delhi: The President has announced a scheme of the government of India on World Tourism Day 2017 that those interested in value addition to any services of monuments can come forward for to adopt and restore such selected sites. In this same regard, maintenance, upkeep and restoration of Red Fort haz been given to Dalmia Group. However as per Government the business entity will not be allowed to undertake any profit activity.
Dalmiya Bharat Group has signed MoU on Red Fort and Gandicota (Andhra Pradesh) in Kadapa district. Dalmiya Group will spend five crore rupees per year for the operation and maintenance of these heritage sites for the next five years.
"The Dalmia group in its own press release has said that they will have to own it for five years initially and the agreement gives them the freedom to make the Dalmia brand prominently visible. It has the right to use its brand name on all kinds of publicity material to be displayed during events organised at the site and also on all signages."
As per the agreement, the corporate giant will build basic infrastructure around the monument and maintain Public facilities, clean drinking water, cleaning of monuments, facilitating access to all, cloakroom facilities, lighting and surveillance system will be improved and interpretation center will be established. Dalmiya India will contribute to the App based multilingual audio-guide, digital interactive kiosks, digital screening, free Wi-Fi and cafeteria.
But things didn't go well with the as Opposition as they Slammed Modi Government for 'Handing Over' Red Fort to Dalmia Group.
Congress Spokesperson, Manish Tewari Said, "Lal Quila (Red Fort) from where National Flag of India is unfurled, from where India's Independence was announced to world,where Union Jack was lowered&the tricolour hoisted now handed over to some Dalmia for 5 years?Is it because NDA/BJP Govt has a particular view of history?"
The government though on Saturday dismissed opposition allegations that it is trying to "privatise" India's heritage, saying that the contract signed with Dalmia Bharat Group giving it access to the Red Fort does not entail any profit-making activity.
Union minister Mahesh Sharma clarified.
"No profit activity will take place."
In Defence Union minister of state for tourism, KJ Alphons also said, Manmohan Singh gave Humayun's Tomb to a foreign agency, the Aga Khan Foundation, for restoration.Singh had praised the Foundation's work and also said that we needed such public-private partnership for restoration of our heritage.