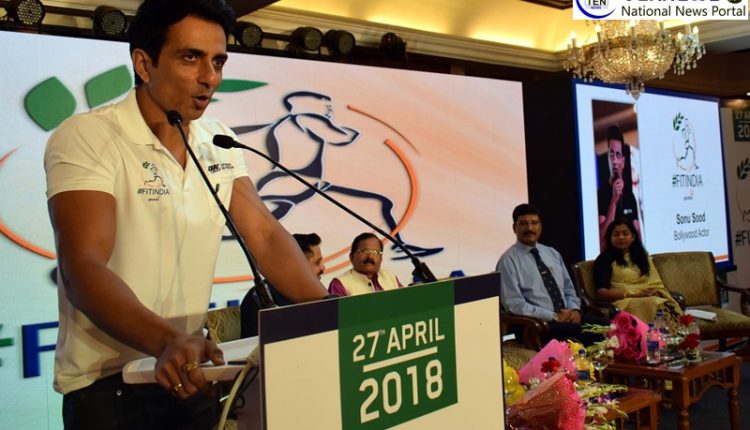 Ashwini Kumar Choubey, Mos for health and family welfare encourages good nutrition for a fitter India at "FIT INDIA CONCLAVE"
Prerit Chauhan (Photo/Video) By Lokesh Goswami Ten News Delhi :
New Delhi: Ashwini Kumar Choubey, minister of state for health and family welfare and Bollywood Star Sonu Sood were speaking about the importance of nutrition and the benefits of adopting a healthy lifestyle at the "FIT INDIA CONCLAVE" held at Taj Mansingh in Delhi. FITINDIA CAMPAIGN, movement provides a unique and exciting opportunity to work towards a healthier India. As a part of the movement, individuals and organisations can undertake various efforts for their own health and well-being as well as for the health and well-being of fellow Indians. which vehemently is spreading education and awareness about an active lifestyle and nutrition, also announced a path-breaking Rs. 2 multi-nutritional sachet by Glanbia for common people, which is completely Made In India. Fit India has also partnered with more than 1000 Villages to fight Mal Nutrition in across the country and, Pledge their support to Village Transformation.
Avik Sanyal, Country Head of Glanbia, said "To support our mission to "Make India A Fitter India" we will be launching an affordable range of products to meet daily nutrition requirement of the people in India. And these products will be available across 20,000 stores in India. We had taken a target to reach 100 million people. Till now we have conducted 300 events. We will be going to deeper and deeper in the cities."
Talking about the Revenue Sanyal Said," In terms of the revenue fit india is CSR Event which Glanbia. In terms of number e Glanbia is the Number one Sports Nutrition Company. So for us business has been growing in multiple force. The consumer trust our products. And in a hectic lifestyle requrement of nutrition and protien deficiency is becoming a concern. As for our company we are moving into more deeper distribution. We are not focusing on one spectrum of society we know there is affordable nutrition requirement. As you heard from the minister as well that large percentage of the population require affordable nutrition. So glanbia is providing multi nutrition and multi vitamin solutions at affordable prices. So what ever consumers want our products will be there to help them."

Ashwini Kumar Choubey, minister of state for health and family welfare, Said,
Today at Fit India campaign we are here to get fit. I'm really Proud of this conference and initiative and i'm looking forward how we can join more people to this campaign. I feel god has given us a body which can do anything. If you are healthy then everything fine and if you are unhealthy nothing will be good for you and people only support you for a short time if you are unhealthy. Prime Minister's Modi has contributed so much for the "Swachhta Abhiyan" and cleanliness do contributes to healthy life. If we see poor people they don't know anything about Hygiene and no doubt they do hard work but still they are sufferig from diseases like Diabetes. Health is wealth as we oftem say is hundred percent right. Well i got the pleasure to contribute in making 33,000 Toilets. A healthy life style is very important.

Talking about the Government Initiative in Health Sector, Minister Said, The major initiative by government in health sector Ayushmaan Bharat Programme has envisioned Health and Wellness Centres as the foundation of India's health system.Ayushman Bharat Scheme, will cover over 10 crore poor and vulnerable families (approximately 50 crore beneficiaries) providing coverage upto 5 lakh rupees per family per year for secondary and tertiary care hospitalization. Malnutrition is one of the major problem in the country campaign like FIT India and Ayushmaan Bharat can contribute to improve the condition of health sector in our country by tackling malnutrition and making People healthy and fit.

Bollywood Actor and Fit India Campaign Brand Ambassador Sonu Sood Said, "I've always been immensely focused and dedicated to my fitness schedule. I'm happy to be a part of my fitness journey and a part of the Fit India Movement. I'll go to major metros as well as other towns to make people aware about the importance of leading a healthy lifestyle and why one should dedicate a couple of hours to oneself. The idea is to make them motivate others as well."