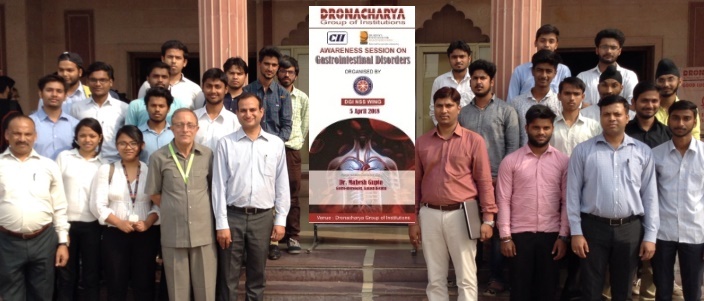 Awareness Session on Gastrointestinal Disorders at Dronacharya Group of Institutions, Greater Noida
Dr. Reddy's Foundation for Health Education (DRFHE) in association with Confederation of Indian Industry (CII), organized an awareness  Session on Gastrointestinal Disorders at Dronacharya Group of Institutions, Greater Noida on 5th April 2018under the banner of DGI NSS Wing. The session was conducted by Dr. Mahesh Gupta , Gastroenterologist, Kailash Hospital, Noida.
The program started with bouquet presentation to Dr. Gupta by Prof. Ashish Soti, Director Dronacharya Group of Institutions, Greater Noida.
Describing the disorder, Dr.Gupta said that Gastrointestinal diseases refer to diseases involving the gastrointestinal tract, esophagus, stomach, small intestine, large intestine and rectum, and the accessory organs of digestion, the liver, gallbladder, and pancreas. Most people he said don't like to talk about it, but having a gastrointestinal problem is common. There's no need to suffer in silence. If you suspect you could have one of these issues, don't delay in speaking with your doctor.
While discussing its causes , Dr.Gupta informed that the problems occur when nerves or muscles in any portion of the digestive tract do not function in a  coordinated fashion, or when the sensitivity of the nerves of the intestines or the way in which the brain controls some of these functions is impaired. Symptoms, he said commonly include pain, heartburn, abdominal distension, nausea, vomiting, bloating, constipation and diarrhea.
Stressing upon the remedies, Dr. Guptasuggested avoiding the foods and beverages that trigger the symptoms.  He advised taking over-the-counter antacids or other medications that reduce stomach acid production and inflammation of the esophagus only under the prescription of a Doctor.  He said that the best way was to take in foods made by Mother Nature, that is fruits and vegetables,  to make the digestive system become healthier.
The seminar closed with the interactive session. Dr. Gupta was presented with a memento by Prof. Kaul in appreciation for conducting the awareness session.