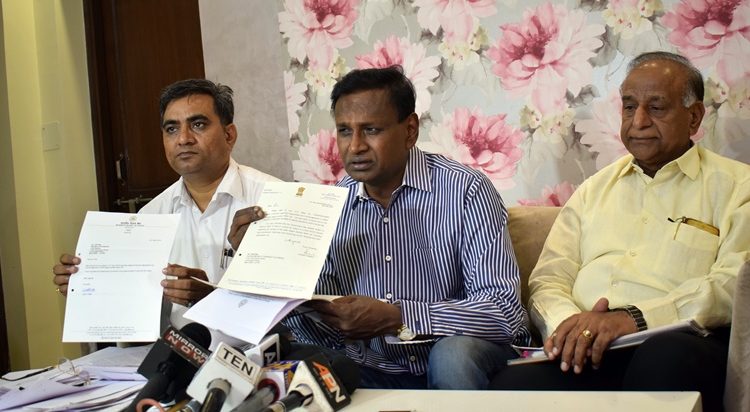 BJP MP Dr. Udit Raj Alleges Corruption in Delhi Nagrik Sehkari Bank!
Prerit Chauhan (Photo/Video) By Lokesh Goswami Ten News Delhi :
New Delhi: BJP Dalit MP Dr. Udit Raj on Friday said that Delhi Nagrik Sahkari Bank has become a place for frauds. Members have been approaching for months requesting to save the banks created by public money from the loot, Banks head office is opposite liberty Cinema, New Rohtak Road Karol Bagh.
According to Dr. Udit, The main persons involved in this scam were Jaibhagwan ( Ex. Chairman) and Rajesh Shanna (Ex. Director) during 2011 to 2014. "All major frauds have taken place during this period that is why administrator was appointed from 2014 to 2017. At present son of Jaibhagwan, Dinesh Kumar & Pradeep Shanna brother of Rajesh Shanna are involved in these activities. Banks total deposits are approximately 600 Cr. Due to these frauds bank is at the verge of liquidation and insolvency."
Addressing the Media today Dalit Leader Dr. Udit Raj Said, "The heights of misdeeds can be seen that present managing committee nearly by 7% voters. Bank has approximately 65,000 members and the votes polled were only 4-5000. The Managing committee to increase their voters number deposit the money to make member later on the money siphoned back from bank to claim more bogus member."
He further said, "I raised this issue in 2014 in parliament but no proper action was taken, I have taken up this issue from time to time last year the issue was also taken up with the Lt. Governor of Delhi. The LG has referred the matter to EOW, ACE and RBI. This shows that LG is well versed with these frauds. Bank is running in loss last 3 years."
"The present management committee is taking unwanted action against the honest officers/staff so that the truth can be buried. One of the relatives of N. D. Gupta, who is Member Parliament (Rajya Sabha) from Aam Admi Party has been appointed as care taker chief executive," added Dr. Udit.