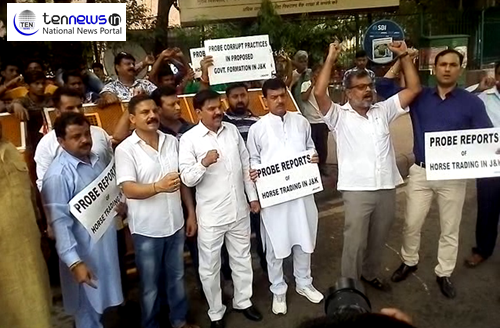 New Delhi: Jolted with the reports of 'horse trading' to form the government in Jammu & Kashmir after the fall of BJP-PDP collision and demanding to dissolve the current assembly, members of J&K National Panthers Party (JKNPP) protested at Parliament street on Saturday.
Accusing BJP of encouraging floor crossing, the leaders and the protesters sought probe into the allegations of allurements offered to the legislators for detecting from their respective parties.
Addressing the media, JKNPP, Chairman, Harsh Dev Singh lambasted the BJP for reportedly engaged in enticing the rival legislators to convert them into turncoats by unethical practices."The attempts of horse trading had made the political parties nervous and brittle who were struggling to keep their legislators intact and rescue them from getting trapped into corrupt deals. BJP being the front runner in the dirty game was again indulging in dangerous tactics to form the govt in J&K on the analogy of Goa and other north eastern States", Harsh divulged.
With both the parties, the BJP and INC unable to form the government on their own in Goa and Manipur after the elections last year, the Saffron party poached the elected members from the smaller regional parties including the independents to form the bizarre coalition governments against the people's mandate in both the states.
While condemning the seditious statement of Mehbooba Mufti warning the Union Government of serious repercussions if her party was rattled and broken by the Centre, Harsh Singh also held BJP squarely responsible for offering enticements to the rival MLAs in a bid to form a ruling combine by coercion. "The obnoxious mechanism would surely push the State towards further ruin and disaster. The holy mandate of the people can't be sacriticed for satiating the greed of power. The 'rat race' for power had picked up momentum to threaten the very essence of the democracy as the menace of horse trading and other corrupt practices were endangering the political discourse of the State", Harsh rued.
He sought to initiate a high level probe against the political big wigs and their political touts who were spewing out huge enticements to woo the MLAs and 'seal the deal' to impose an unholy dispensation once again notwithstanding the mandate of the people.