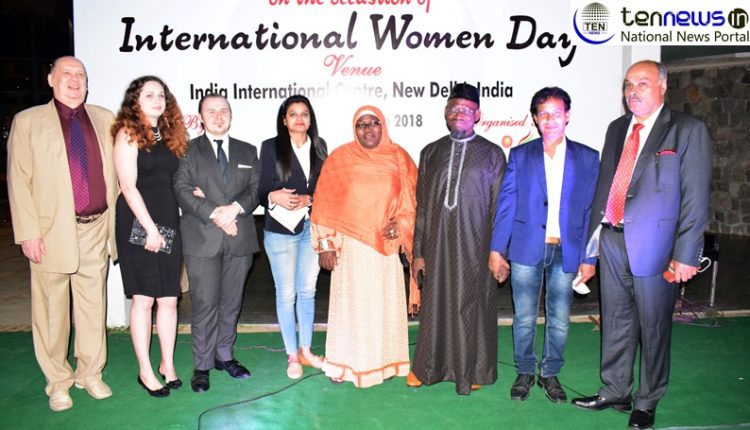 Chambers of Commerce & Industry (CCI) India Celebrates International Women's Day!
Prerit Chauhan (Photo/Video) By Lokesh Goswami Ten News Delhi :
New Delhi: International Women's Day (IWD) is celebrated on March 8 every year. It is a focal point the movement for women's rights.  The worl celebrated International Women's Day. It is a day to celebrate the indomitable spirit of women and to advocate equal rights for women all around.
The Chamber of Commerce & Industry of India (CCI India) Celebrated International Women's Day in Capital on Thursday. CCI India celebrated womanhood and encouraged all to pledge for Equal Opportunity. On the occasion of International Women Day Vinod Singh Advisers to Indian parliamentarians and Munindra Kumar DG CCI INDIA brought all like minded who's who from Delhi NCR and facilitated social interactions and networking for on the issues of women empowerement.The Programme was Graced by The Prominent Personalities Like, High Commissioners, Secretaries, Ambassadors of Different Countries, MP's and Great Women Achievers of India.

Ten News Caught up with some of the Guests at the Auspicious Occasion of International Women's Day. Speaking about the Women's Day and the Importance of Women's in Everyone's Life, Prasanna Kumar Patasani, Lok Sabha MP, Bhubaneswar Said, "Any and every successful story would not have been complete without the presence of a woman! A woman can break or make Anything. She always stands firm, by the side of a man when he embarks on his journey of success! She is courage, she is love, she is the future, she the present!! Cheers to the velour of women who have taken up the responsibility on her shoulders".

Morati Kelly Molelekeng, High Commission Botswana, Said, "To be a woman is a beautiful thing. We have our challenges but we are brave, kind,calm & we roar. We stand side by side with our fellow men. Not better not worse , but together. Today we are reminded – the power of women that lights up the world".

Shankar Bhai Vegad, BJP MP from Gujarat said, "Happy International Women's Day to every single woman in the world. Cheers to your strength and bravery to thrive in a male dominated society. Continue to make your voices heard! You are the definition of courage! We are the womb".

Manu Tyagi, Mrs.North India 2018 Speaking on her motivational Journey From Small Town to Shining Star Said, "Thank you CCI for this, indian women come of age, often finds it difficult to remain unmarried for too long. After all, don't such women often hear the regular chanting of "log kya kahenge?" by one's family and relatives? What follows is an unnecessary show of concern among people who, while trying to investigate the actual reason behind not marrying (affairs? physical ailment?), also convince a woman that she cannot live without a man. We should think about it.