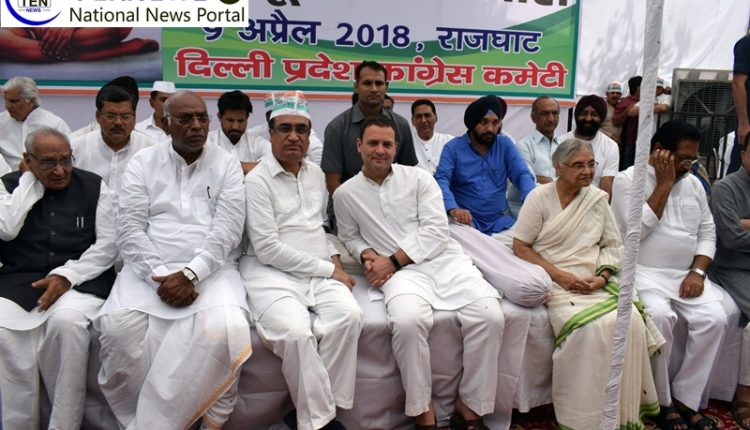 New Delhi: BJP want to divide India by suppressing dalits and minorities. They are creating communal tension to be in power, alleged Congress Chief Rahul Gandhi on Monday at Rajghat and indicated that Congress will trounce BJP in upcoming general election 2019.
To restore communal harmony and raise their disappointment against prevailing communal tension in the country, Congress hold a day long hunger strike at Rajghat.
The hungers strike lasted between 11 am to 4 pm in front of Rajghat.

Besides Congress Chief Rahul Gandhi senior Congress leaders like former Delhi CM Shila Dixit, Ashok Gehlot, Leader of Opposition in Lok Sabha Mallikarjun Kharge, DPCC Chief Ajay Maken were sat on a day long hunger strike.

At the end of hunger strike, Congress Chief came down heavily on ruling party and Prime Minister Narendra Modi. He said, "BJP government is spreading fear, violence and forcing their ideology on minorities but Congress stands for all and to fight against all atrocities.

He further said, Congress party's ideology is more relevant these days because freedom of speech in under attack. "Media institutions are under attack and being suppressed."
While pointing out on media persons, he said, "Now days, you are under attack and I'm here to stand for you and for every individuals who's freedom of speech is being targeted.
In addition to that he said, "BJP Dalit MPs are often conveyed me that PM Narendra Modi is not responding their letters. He is anti-dalit and support casteism. All signs indicates that no one is happy with BJP and we will trounce them in 2019."
Earlier, the presence of Jagdish Tytler and Sajjan Kumar, who were allegedly involved in 1984 Sikh riot draw a huge media attention. Sensing gravity of the matter, Delhi Congress Chief whispered and duo get off from the stage and sat among the party workers.