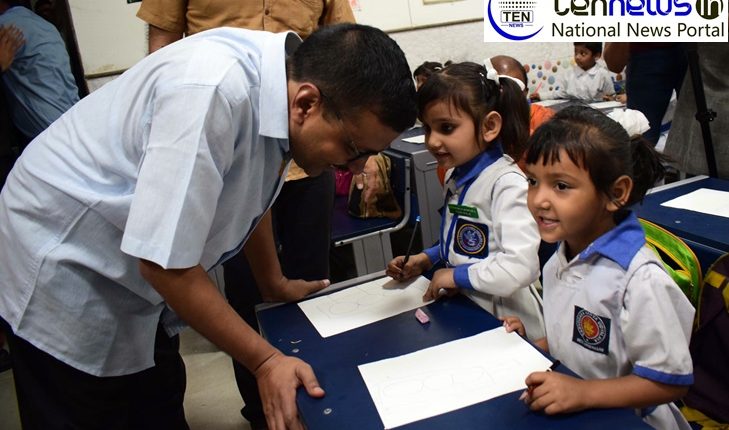 Delhi CM inaugurates swimming pools of two govt. schools
Kashif Hasnain (Photo/Video - Lokesh Goswami ) Ten News
New Delhi: Those who claim government schools and their students can't change are wrong, we have changed both. We are providing facilities in Delhi government schools at par with private one, said, Delhi, Chief Minister Arvind Kejriwal on Saturday morning.
He said while addressing students and parents while inaugurating swimming pools at two government schools in New Delhi today. Delhi Chief Minister Arvind Kejriwal and Deputy CM and education minister Manish Sisodia inaugurated the swimming polls.

Both schools are – Annie Besant Sarvodaya Kanya Vidhalaya locates in Mayur Vihar Phase –II and Rajkiya Sarvodaya Bal Vidyalaya, West Vinod Nagar.

Kejriwal further said, "AAP government is committed to provide quality education and by doing this we are building the nation. AAP has set an example for other states who want to transform their government schools into model schools."
"People are still in shock with the news of having swimming pool in government schools. Many good news yet to come." He added.
Later, Dy CM and Education Minister, Manish Sisodia addressed the gathering. While talking to students he said, "We can only provide facilities and infrastructure but you students have to take advantage of these facilities and make us proud."
"The makeover of government schools has changed the mindset of parents and now they are sending their kids to government schools." He added.
Meanwhile, workers of Delhi Congress party showed black flags and protested against CM Kerjiwal and Dy CM Sisodia during the event.
As the Ration Scam came into light, BJP and Congress leaving no stone unturned to corner the AAP government.