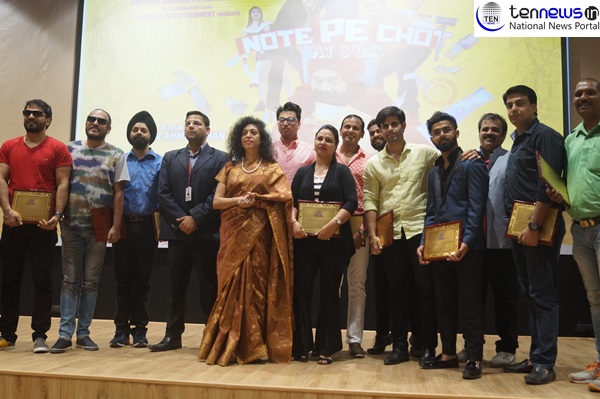 Demonetization based movie "Note Pe Chot" trailer launched at GLBIMR Greater Noida, Kabira Fame Tochi Raina adds melody
Saurabh Kumar
8/3/2018          Saurabh Kumar
Today the trailer launch of Note Pe Chot a movie based on demonetization was launched in GLBIMR, Greater Noida. During the trailer launch of the movie whole cast of the movie remained present.
Taking about the film they told that the movie is a satire on the demonetization done by the government. We had tried to showcase the situation of country during the time of demonetization. What people have gone through as this was also a kind of disaster for many Indians.
People will definitely able to relate themselves from the characters of movie. We have raised this topic in a very light manner with comedy and we hope audience will like it.
The music of movie is done by Kabira song fame Tochi Raina. At the trailer launch he also sang couple of movie song. Thereafter on public demand he also sang his hit numbers like Kabira, ek tara, gal mithi mithi bol and many more which is largely applauded by audiences.
Speaking at the event Director General of GLBMIR Urvashi Makkar said "I enjoyed the trailer very much and music of movie was also soulful. I wish that movie will have big successes and congratulate the whole cast of movie. I also hope that when after this movie next year they will be here as a celebrity."