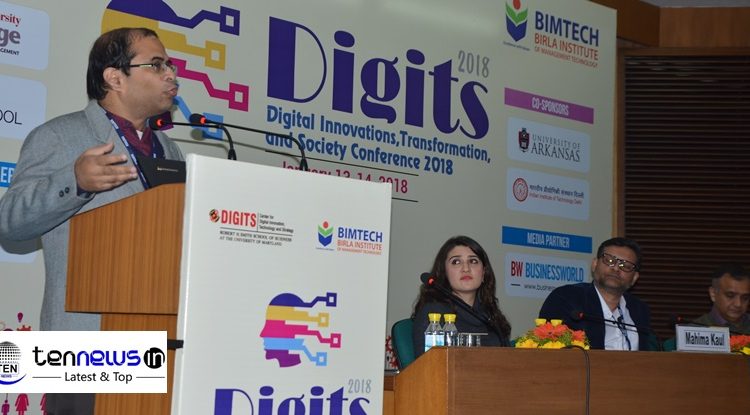 Digits 2018: A Big Step in Transformation of Digital, Societal and Public Policy!
PRERIT CHAUHAN (PHOTO/VIDEO BY SAURABH SHRIVASTAVA)
New Delhi: Birla Institute of Management Technology (BIMTECH) along with DIGITS, Robert H. Smith School of Business, University of Maryland, U.S.A jointly organized the Digital Innovations, Transformation and Society(DlGlTS) Conference, 2018, at the India Habitat Center. New Delhi on the 13th and 14th of January.
Against the backdrop of digital transformations taking place globally, DIGITS 2018 conference featured research papers, panels and keynote speakers to examine strategic, economic and policy implications of the opportunities and threats of Digital Innovations and Transformations.
The inauguration ceremony started with the welcoming of all the delegates followed by the lighting of the lamp by Director Dr. H Chaturvedi, Dr. M.P. Gupta, IIT Delhi and Dr. Sunil Mithas, University of Maryland, U.S.A.

The welcome address was given by Director Dr. H Chaturvedi where he shared the vision of the conference which is to create a forum to bring together minds to discuss opportunities dealing with digital innovations and transformations. He also extended his gratilude towards the Co-Sponsors of the conference Heinz college, Denver Business School, University of Arkansas and IIT Delhi.
This was followed by an engaging panel discussion on Digital India: Digital Transformation and Public Policy by esteemed panelists.
Dr. Harivansh Chaturvedi, Director of Bimtech Exclusively Speaking to Ten News Said, "In line with the changes that emerging technologies have brought in at work places and society, BIMTECH with center of DIGITS at Smith business school, university of Maryland, USA, is jointly organized the inaugural Digital innovations, Transformation, and Society Conference. The forum will bring together the government bodies, industry and higher education institutions to debate opportunities and challenges and policy implications for actions."
Sanjiva Shankar Dubey, Professor BIMTECH Speaking to Ten News Said," The conference IS a great platform for the exchange of ideas and collaboration between students faculty and executives.
lt also provides a unique Opportunlty for researchers from various institutes to jointly tackle some of the biggest business Challenges facing the digital world today".

Addressing the Conference on Digital Insights, Prashanto Roy, VP & Head Nasscom Internet Said, "we have 750 MIllion unique mobile Subscriptions removing multi SIM usage. Voice & Internet mainly via mobile tho' Govt. services are not mobile ready. How do we get the next 300 Million Online given challenges of lower literacy at Digits 2018."

Shivnath, India Head of Public Policy Facebook Said, "Facebook has been expanding its policy team in India. It has also been more proactive, funding policy research at think-tanks, industry associations and consulting companies, in areas like privacy."

Chetan Krishnaswamy,Director Google, Public Policy Speaking About Online Platforms & Social Transformation Said, Internet Saathi teaching people how to use Internet. Government should deliver services optimised for mobile. Safety, Service, privacy key to any product/service launched & people will adapt to it."

Addressing the conference,Mahima Kaul, India Head of Public Policy Said, "Twitter and every platform gives you responsibility. Twitter is a unique Platform designed to the public.We actually tweet to be public on Twitter. Changes are taking place in society level which is actually very transformational. A single Tweet can go viral, If that tweet get retweeted or shared. Now a days in Social media everyone is generating it's own content. Twitter is a platform with so may different users".