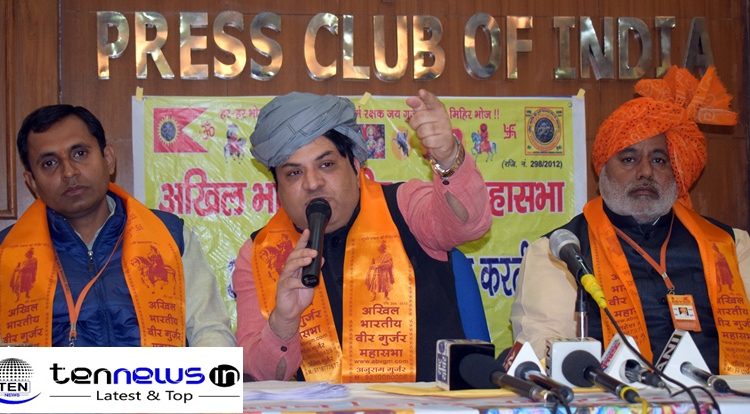 Empowerment of Gujjar Community can lead to effective solution says Eshfaq-Ur-Rehman Poswal
Lokesh Goswami Ten News Delhi :
Empowerment of Gujjar Community can lead to effective solution of militancy issuein jammu and kashmir: says Eshfaq-Ur-Rehman Poswal
New Delhi: The Akhil Bhartiya Veer Gujjar Mahasbha is concerned and the plight of Gujjar Bakkarwal youth of Jammu and Kashmir. Gujjars are traditional residents of jammu and Kashmir and a sizeable part of Tribal community. Despite specific Constituional provisions for the Tribals, they are deprived of reservation in several areas including the election of panch and Sarpanch. This makes them face socio political deprivation and these deprived. youth are being constantly lured by the Pakistani ISI to join militancy. In order to safeguard the interest of Gujjar youth, We the representatives of Akhil Bhartiya Veer Gujjar Mahasabha make the following demands.
1. We seek insertions of allocation of Tribal sub-plan, proportionate to population, in the ongoing Budget session of the Assembly. This insertion of Tribal sub plan must not be deferred further at any cost.
2. In 1991 Gujjar community got Schedule Tribe (ST) status but till date we have not been given the due reservation in Legislative Assembly, Legislative Council and Panchayat level.
3. The deprivation of this community in the socio- political level in the state has left the youth of this community high and dry. Thus they are vulnerable to become the prey at the hands of Pakistan based ISI. The ISI is luring these Gujjar Youth to join militancy. At the same time, the militants are afraid of Gujjar Youths. Therefore, we are making demand for creation of Gujjar Regiment in the Indian Army. In a recent meeting with chief of Indian army, BJP leader Eshfaq-Ur-Rehman- Poswal demanded creation of Gujjar Regiment. This is all the more significant because militants are extremely scared of Gujjar youth. Gujjar are known for their valour and commitment to the Nation. Their participation in Army will create panic among militants. Thus this Gujjar community will prove an asset to the state and the Nation.
4. President Akhil Bhartiya Veer Gujjar Mahasabha Anurag Gujjar said that the government should take all the issues of Gujjar community of J&K seriously failing which he will start awareness campaign in this community all the states and submit memorandum to the CMs of state governments.
5. We seek your-support for the cause of Gujjar Youths and for all round socio- economic development of Gujjar community in Jammu and kashmir.