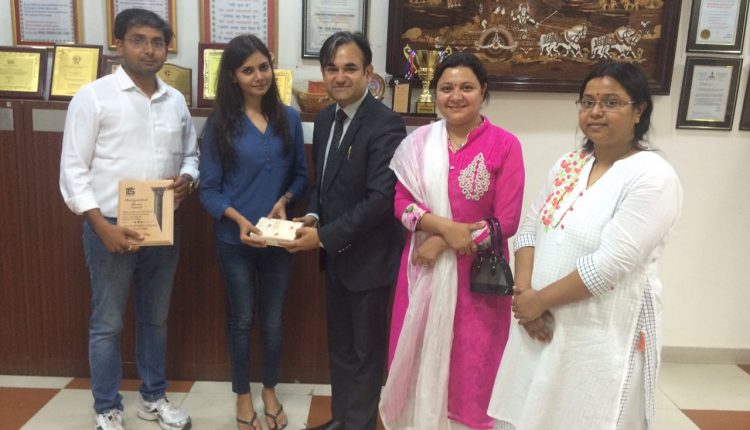 ITS Engineering College Celebrates Alumni Day, organizes alumni-student interaction!
Ashish
ITS Engineering College celebrated the Alumni Day to felicitate its Elite Alumni Mr. Vivek Singh , Manager –BSES Rajdhani Power Ltd, New ,A Joint Venture with Government of NCT, Delhi) since 2013.
The celebration started with a warm welcome to Mr. Vivek Singh & his wife Tanima Chand Srivastav- by Dr. Vikas Singh, Executive Director – ITS Group of Education, Head of Electrical & Electronics Engineering Dept, Alumni Coordinators & CRC Team.
 Major achievementof Mr. Vivek includes-"The Silver Illumination Award at ICQCC-2015 Korea" for Quality Projects at BSES. He has also won three consecutive "National Level Excellence Awards in NCQC-2014, NCQC-2015 & NCQC-2016" organized by Quality Circle Forum of India. Also he has received "State Level Gold Awards in CCQC-2014, CCQC-2015 & CCQC-2016 organized by QCFI (Quality Circle Forum of India)".
In Alumni – Student Interaction Session, Mr. Vivek said there is a plenty of jobs for Electrical & Electronics Engineers in today's market. The scopes in Power Sectors are always high, as in terms of generation around 50% energy is only generated by India in comparison to its future demand.
He emphasized, every students must have a focused Area & Plans for excelling their career. He added, if one has strict alternative planning; like plan A, Plan B & Plan C to achieve their goals …Success will definitely follow their way…The session was also shared by his equally talented wife Ms. Tanima Chand Srivastav, who have been also graduated from the institute in 2011 as Electrical & Electronics Engineer.
During campus visit, Mr. & Mrs. Singh were amazed by seeing the development of Center of Excellence, Business Incubation Centre and Innovations of our students. He added this will definitely help our juniors to cope up with current Technological Advancements.
In felicitation Speech, Dr. Vikas Singh has congratulated both Mr.& Mrs. Vivek Singh for their outstanding achievements in their career. With a note of appreciation he said, Success of Alumni spectacles the Success of any Eductional Institution.
Shri Sohil Chadda, Vice Chairman-ITS Education Group, extended his heartiest Congratulations to Mr. Vivek & Family and wished them best for their future endeavors.