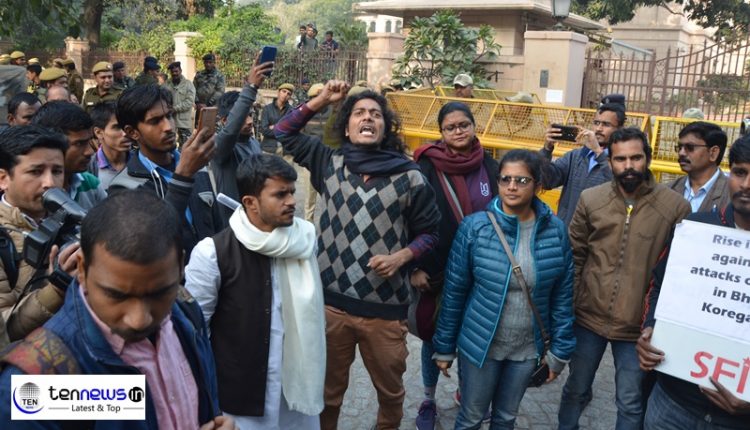 Former JNU President Blames Right Wing for Bhima Koregaon Violence, Protest at Maharashtra Sadan Delhi
PRERIT CHAUHAN (PHOTO/VIDEO BY SAURABH SHRIVASTAVA)
New Delhi: After The fire of Bhima-Koregaon violence spread all over Maharashtra, Its effect has started appearing across the country, Specially in Nation's Capital Delhi. Because of the violence, the lives of the people of the country have become disrupted.The Dalits on Wednesday announced the closure in Maharashtra and on the other hand Political parties were busy in blaming each other.
On Wednesday, at Maharashtra Sadan, Delhi. Dalits gathered against the attack on Bhima Koregaon in solidarity with the Maharashtra Bandh. SFI, Dalit Shoshan Mukti Manch, AISA were among those who joined the protest. The Dalit groups in Maharashtra began their agitation after a man was killed in clashes during celebrations in Bhima Koregaon near Pune on Monday.
Ten New Caught Up with Former JNUSU president Mohit Pandey, he Said, "It's a Well Scripted Plan by Right Wings To Divide Us On Dalit Vs Non Dalit And Win 2019 Elections. It's Been 200 Years Since Battle Of Bhima Koregaon, There Were No Violence In Last 199 Years but now they have created This violence which is a brain child of Right Wing Parties, this divide and rule concept was introduced by Britishers and its legacy is being carried out by powerful people now".