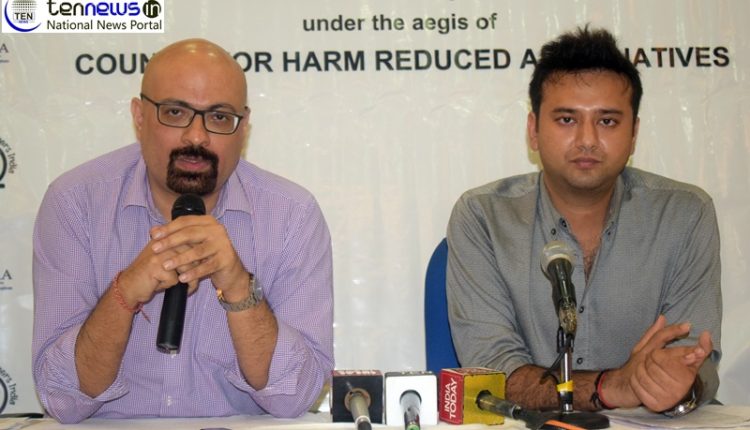 Government clueless on E-Cigarettes but banning it, claim NGOs
Kashif Hasnain (Photo/Video) By Lokesh Goswami Ten News Delhi :
New Delhi: The idea of banning e-cigarettes by the Union and State governments are premature. The Health departments haven't done any studies on the impact of vaping, claimed NGO Council of Harm Reduced Alternatives (CHRA) and Association of Vapers India (AVI) on Friday.They further claimed, multiple peer-reviewed scientific studies in countries such as the United Kingdom and elsewhere have convinced health experts and governments to encourage smokers to switch to vaping. The hurry to ban e- cigarettes is therefore not understandable.

The CHRA work towards reducing the tobacco health burden through safer alternatives, and AVI, an advocacy group that represents e-cigarette users across the country.Irked with the news that Union and State governments are planning to ban e-cigarettes, they hold press conference in national capital and registered their disappointment.
While addressing media, Director of CHRA Samrat Chowdhery said, 'Neither Union government nor state governments have done any research before mulling to ban e-cigarette.'CHRA said it is unfortunate the government is mulling banning e-cigarette, which are 95% less harmful compared to tobacco cigarettes, even as it promotes harm reduction programmes in interventions on addiction and communicable diseases. It would deprive millions of smokers of safer choices and cause damage to public health.

They claimed Toxic chemicals and tar produced from the burning of Cigarettes are the main reason for tobacco-related deaths across the world, not the nicotine. E-cigarettes have nicotine but not the tar as there is no combustion, pointed out the vapers' body. Banning e-cigarettes would deny the country's 120 million smokers a lower-risk means of nicotine intake and cessation, stated AVI.
"Harm reduction is a concept we apply in our everyday lives by opting for safer products, be it refined oil or less-polluting cars. In tobacco use too, the lives of users can be positively impacted with harm-reduced alternatives. The government has so far relied on an emotional appeal to persuade tobacco users to kick the habit, but never offered an alternative beyond gums and patches, which have a very low success rate.'' Said director AVI Pratik Gupta.
He further said, 'An attempt to ban e-cigarettes is regressive given that the government's stated policy is to provide wider choices to consumers for all products and services, and not restrict them.