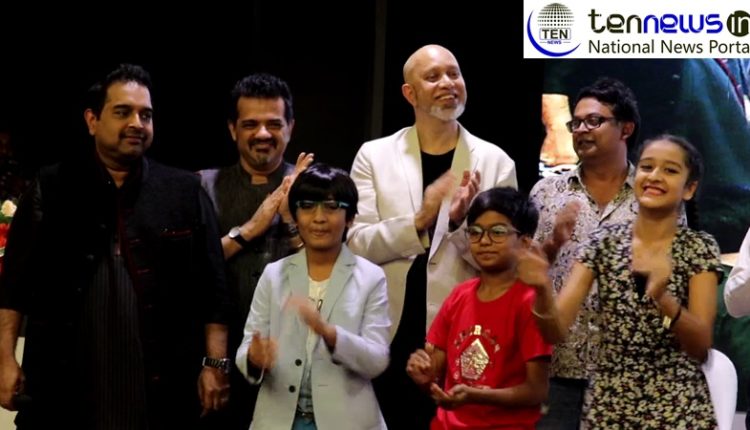 Hardeep Singh Puri launches Trailer of Award Winning Movie 'Halkaa' in Capital!
Prerit Chauhan (Photo/Video) By Lokesh Goswami Ten News Delhi :
New Delhi: Halkaa is a Movie which is a unique take on a slum child's heroism, aspirations and dreams. The child protagonist, Pichku fights for the basic problem that he faces everyday, defecating in the open among others.
Directed by National Award winner Nila Madhab Panda and presented by the philanthropic Shiv Nadar Foundation in association with Akshay Kumar Parija films, the movie features child actor Tathastu as Pichku and Ranvir Shorey and Paoli Dam as his parents. The film has already made his mark over 15 global platforms.
On Monday, National Capital, Witnessed,
Hardeep Singh Puri,Minister of Housing and Urban Affairs, Roshni Nadar Malhotra, CEO of HCL Corporation and Trustee of the Shiv Nadar Foundation, Durga Shanker Mishra (Secretary, MoHUA) along with Music composer Shankar, Ehsaan and Loy, the cast & crew of the internationally acclaimed film Halkaa as they launched the most awaited trailer of the movie amongst 200 city kids. The event took place at NDMC Convention Center, New Delhi.
 While speaking about the movie, Hardeep Singh Puri, The Housing and urban affairs minister said,
"I felt privileged to have got an opportunity along with Durga Shankar and other colleagues to watch this film 'Halkaa' 2 months ago. Swachh Bharat Abhiyan is succeeding and it will succeed because of director and producer like Nila Madhab and Roshni Nadar who has captured the essence of the message and put it in a medium which is very strong. The Ministry of Housing & Urban Affairs has associated with the film for the strong resonance of its subject."
     
Director, Nila Madhab Panda, said,

 "I strongly believe that this film will leave a lasting impact in the hearts and minds of audiences not just for the audacity of its subject but also for the joie de vivre with which the protagonist overcomes the adversity he faces. We have received so much love for this film across international film platforms and we can't wait for audiences in India to see this labour of love."

Ten News Caught up with the Hate Story Fame Actress, Paoli Dam. Speaking to Ten News about working in the movie she said,
"Well i'm delighted to be a part of this film. We actually shot in Delhi Summers in Pragati Area Slums. The film is around that area. The director of the movie Nila Madhab Panda told me the the script, it was extremely intriguing. It's such a important cause and written so well as a story."
Talking about the stereotyping of Actors in Bollywood, she said, "i don't belong to category at all. I always wanted to do things differently. Films which are different from one another."
Halkaa releases across India on 7th September 2018.