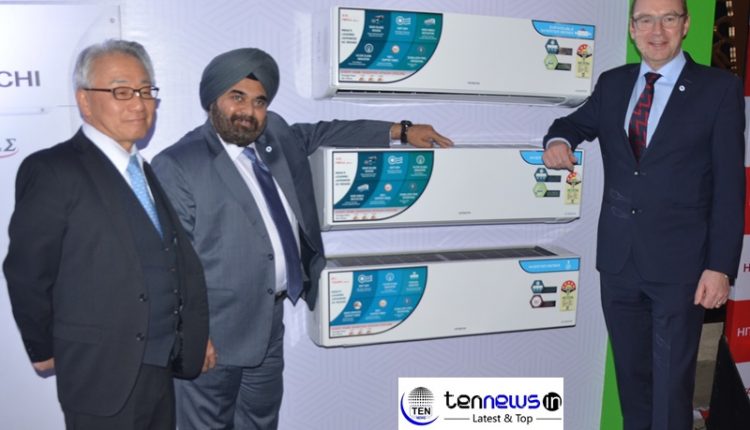 Hitachi expands its range of Energy Efficient Air Conditioning solutions for every Indian Home
SAURABH SHRIVASTAVA
New Delhi, January 10, 2018: Johnson Controls – Hitachi Air Conditioning India Limited, manufacturer of India's 3rd most selling air-conditioner brand 'Hitachi', introduced its latest range of energy efficient air-conditioning solutions today in the capital. With the introduction of most energy efficient and eco –friendly products, Hitachi aims to bring revolution in Indian AC industry and become India's leading HVAC brand by 2021.
Residential and Commercial air-conditioning major Johnson Controls – Hitachi Air Conditioning India Limited recently unveiled its aggressive business plans and vision in its Annual Business Meet organized in Delhi on 9th and 10th Jan 2018 for the Residential Segment and on 11th Jan 2018 for the Commercial Segment.
Hitachi, is an already established, premium brand with more than 30 years of legacy in India. As a part of its growth strategy, post the global joint venture between Johnson Controls, U.S. and Hitachi, Japan, the company has been taking big initiatives to fortify company's leadership in the market.
On launching the latest innovative solutions, Mr. Shinichi Iizuka,COO & President, Johnson Controls-Hitachi Air Conditioningsaid, "Being a socially responsible brand, development of energy efficient solution has been a well deliberated and conscientious strategy of the company since its inception globally. This holds special significance for India and now, on the quest to provide best air conditioning solutions and become leading HVAC player in India, Hitachi has launched wider range of products which can cater to the diverse needs of customers in residential and commercial segment."
 In its Commercial Air Conditioning Segment, Hitachi has introduced new products and technologies in VRF Air Conditioning Systems, Ductable Air Conditioning Systems and Chillers that takes its new product lineup a notch above the rest.
VRF is highest growing category globally and in India, it has good growth opportunity in not even commercial but in residential segment also. Hitachi has introducedSet Free 'Sigma Series' in VRF segment, which not only saves energy but also saves on space and running cost. Hitachi's Set Free 'Sigma Series' is unique product designed globally but keeping India's climatic conditions in mind. 1 ODU of VRF can provide efficient cooling for 5 IDUs.  With launch of this product, customers will have better options for combination module, benefit of superior aesthetics and wider ambient working range.
Hitachi's current range of Ductable and Chillers are ecofriendly products, which are designed for efficient cooling with maximum energy efficiency. Hitachi also has chillers, which are the most energy efficient with highest COP in India as on date.
Like commercial AC segment, Hitachi has ushered in the era ofExpandable Inverter Air Conditionersthis year in its Room Air Conditioning Segment. Hitachi Expandable Inverter Air Conditioners have been designed to give maximum comfort even at 52* C ambient conditions of the Northern Plains or the hot humidity of the Coastal Areas.
Talking about the Expandable Inverter AC series, Mr. Gurmeet Singh, Managing Director, Johnson Controls – Hitachi Air Conditioning India Limitedsaid, "With 6.1 ISEER, our product Kashikoi 5400X+ (1.0 TR, 5 Star) is todayIndia's Most Energy Efficient Split Air Conditioner in the Room AC segment. A part of our Expandable Inverter Air Conditioner Range, this product has our unique Dual Flow Expansion Technology (DFET) which makes it most energy efficient air conditioner available in the industry.Our key focus will remain towards providing 5 Star Inverter ACs which are one of the most energy efficient and ecofriendly machines in its category".
To expand its reach in tier 2 and 3 markets, Hitachi has launched many new products in its Inverter air conditioner range which are designed to cater needs of first time buyer and mid segment AC buyer. With close to 100 models in its RAC line-up, Hitachi is committed to provide Air conditioning solutions to every segment of Indian AC consumers.
Talking about the environmental issues and need of energy efficient products, Mr. Gurmeet Singh who is incidentally also the Active executive committee member of CEAMA and president of RAMAsaid "I am actively involved and working very closely with Industry's leading bodies as well as Government bodies related to framing of such policies and I am happy that today, controlling environmental issues and promoting energy efficient products is the top agenda for both. This in addition with the Government's Make in India campaign, will also encourage other AC Manufacturers to take initiatives to work on related environmental issues, push energy efficient products and design better products for the benefit of Indian consumers."
Talking about the role of Hitachi as an industry thought leader, Mr. Gurmeet also said "Hitachi, since long has been involved and dedicated to the cause. Aligned to the industrial and governmental policies, we have launched a wider range of Energy Efficient products which use R410A and R32 gas, which does not contribute to ozone depletion. We have the Highest No. of 5 star inverter ACs along with other inverter ACs which are energy efficient and eco-friendly products. All RACs are designed and manufactured in Hitachi's manufacturing plat situated in Kadi, Gujrat. This plant is one of the biggest single roof manufacturing facility in India and is already aligned to the Make in India campaign."
Not only through quality products and technology, Hitachi has also laid down plans for providing superior post sales experience to its customers. To create service delight and enhance the skills of technical staff and technicians, Hitachi established 2 new Engineering Excellence Centers (EEC) last year in Delhi and Chennai and going to inaugurate 2 more EEC in Mumbai and Kolkata markets very soon.
These EECs are cost center for Hitachi and aimed to provide superior technical skills to staff of JCH-IN and its trade partners.
"Along with Products Hitachi is focusing on Channel Development management also. Globally lot many initiatives have taken place. In India also we have taken a drive for channel expansion and management. I am happy to share that in last few years our Dealer and Distribution network has grown multi folds and today we have around 8000 channel partners across India"said Mr. Howard Lang, Global Sales, Marketing and Channel Development, Johnson Controls – Hitachi Air Conditioning
Adding to Mr. Lang's point, Mr. Gurmeet Singh also said, "Hitachi currently has a market share (Volume) of 12% In the RAC segment, and is rapidly foraying into the untapped markets in the Tier 2 and 3 towns by expanding its channels and partnering with major online retail platforms as well. We are leaving no stones unturned to become a 'Premium yet Accessible' brand in India because we believe 'EVERY HOME DESERVE HITACHI INVERTER AC'".