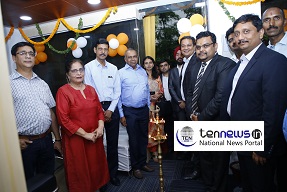 New Delhi /Mumbai, May 16, 2018 – ICICI Prudential Asset Management Ccompany (AMC)  – India's largest Asset Management Company, today opened a new branch in New Delhi to serve the people of National Capital Region (NCR)
The branch was formally inaugurated by Mutual Fund expert and Founder CEO of Value Research, Dhirendra Kumar. Present at the occasion werePratap Singh , Zonal Head – NCR , ICICI Bank , Jayanti Singh (Regional Head – GK Region ICICI bank ), Vinod   Gupta & Rajiv Chopra (Partners VR Investments), Amar Shah (Head – Retail Business), Aniruddha Chaudhuri, Zonal Head – Retail Sales & Distribution – East, North & South along with Navneet Bakshi, Regional Head – Retail Sales & Distribution – Delhi & NCR. They were joined by several leading Financial Advisors customers and staff members.
Speaking at the occasion, Mr. Amar Shah head retail business ICICI Prudential Asset Management Company  thanked all channel partners and acknowledged their contribution as fundamental to the success and growth of the company. "We strive to create distinctive customer experience and make financial solutions simpler and more accessible. The opening of this new branch is another step in this direction.
"ICICI Prudential AMC has witnessed substantial growth in scale; from 2 locations and 6 employees at the inception of the joint venture in 1998 and AUM of 178 Crs, to 3 Lac plus Cr of Assets under Management (as on 31st December 2017). The company is present today in 264 locations across India with 1801 employees and serving 3 million plus customers. The company's growth momentum has been exponential and it has always focused on delivering high quality investment outcomes for its investors."said Mr Shah