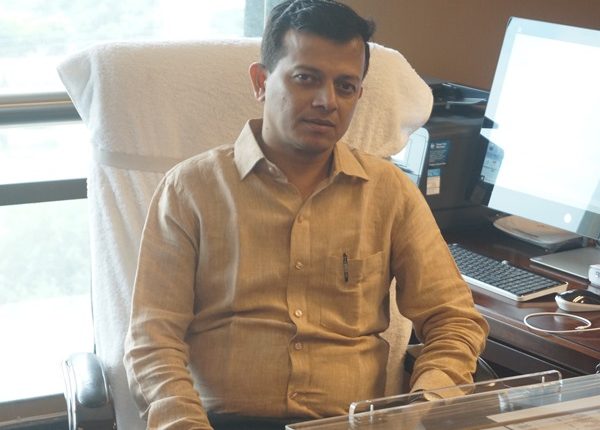 Inclusive development a priority says Greater Noida Authority CEO Parth Sarthi Sensharma, plans for utilization of Social media tools for broadcasting information!
Ashish Kedia / Saurabh Kuamr
From eying social media tools for broadcasting information to being more open to accommodating demands of industrial sector, Greater Noida Authority is looking forward to being more transparent, proactive and citizen friendly in its operations.
Senior bureaucrat and a 1994 batch IAS officer Parth Sarthi Sensharma took charge of the Greater Noida authority in the end of June. It has been about a month of his tenure and in his new role he seems to be focusing on an all-inclusive development in the area. The key decisions of the last board meeting indicate towards an intensified attempt to revive industrial development and generate employment.
Although speaking about his priorities during an informal conversation with Ten News he says, "The authority is attempting to achieve a balance between expectations and needs of different stakeholders. Every segment associated with Greater Noida Authority is my priority. We are prioritizing development of industries, welfare of farmers and requirement of citizens along with keeping in mind the self-sustainable model of Greater Noida Authority".
A key policy change was approved in the first board meeting of his tenure as per which the industrial plot applicants have been given an option of applying for specific plots from the allocated land-pool. Previously the entire exercise was based on draw and applicant could only select the interested land size category. The new flexibility has been appreciated by the industrial fraternity.
Talking about the same the CEO says. "In our last board meeting we have passed a significant decision which allows the industrial applicant's a choice to select the specific plot that they are interested in. If more parties apply for the same plot that then there will be a draw but the provision certainly makes it more lucrative for industrialists eyeing an investment in the region. Also in case there is an existing unit and same wants to expand in the nearby unalloted plot, they will certainly be given a preference".
Speaking further about the benefits of the IITGNL he says, "Integrated Industrial Township Greater Noida Limited (IITGNL) is expected to further intensify the industrial development in the region. We are already in talks with several interested parties and the authority is positive to bring much needed investment in the region and industrial development is surely going to get a boost".
The Social Media Connect :
Despite social media being such a powerful tool in modern day governance, the Industrial Authorities of the district have been lacking to make best use of it. Although both Yamuna Authority and Noida Authority have a presence on the twitter but usage of the same has been very limited owing to different factors. However now the Greater Noida Authority has decided to take a lead and is looking forward to hire a dedicated government agency to handle its social media profiles.
Speaking about this latest development CEO Parth Sensharma says, "We are in process to appoint a dedicated agency to handle social media presence of Greater Noida authority. The authority plans to have official twitter handle and facebook so that information concerning public interest can be disseminated on the real time basis. The agency will be assigned responsibilities of broadcasting and publicizing authority's development initiatives, public notices etc. We are sure citizens would appreciate it and will benefit from it".
Greater Noida Authority CEO Partha Sarthi Sen Sharma was also given a presentation in this regard by a team of BECIL a Government of India enterprise on Monday. BECIL is a mini ratna company under the purview of Information & Broadcasting department. Ramit Lala, Assistant General Manager at Broadcast Engineering Consultants India Limited met GNIDA CEO along with his team for the presentation regarding scope and nature of Greater Noida Authority's social media handle.However a final decision for the selection of the company is yet to be taken and is expected soon.