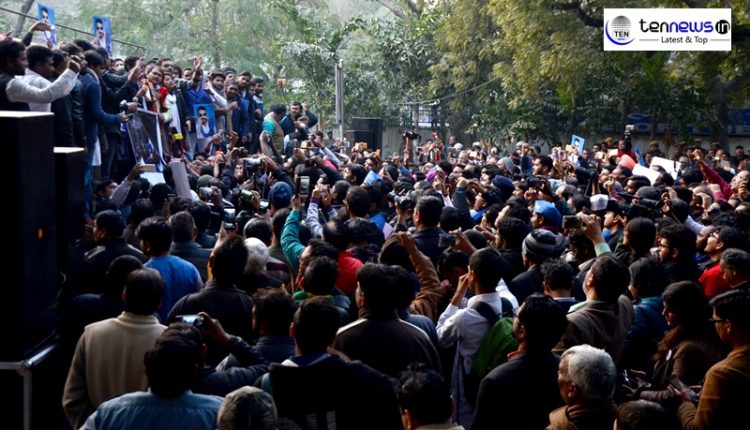 Jignesh Mevani holds 'Yuva Hunkar Rally' despite no from police!
PRERIT CHAUHAN (PHOTO/VIDEO BY SAURABH SHRIVASTAVA)
Despite police permission, Vadgam MLA and Dalit leader Jignesh Mevani went ahead  'Yuva Hunkar Rally' in the national capital on Tuesday. Earlier in the day, The Delhi Police has put the request of Vadgam MLA Jignesh Mevani to conduct a rally on Parliament Street today on hold. The police had earlier said that Jignesh Mevani's request was "under consideration" .
Mevani, however, threatened to march to the PMO with copies of the Constitution and the Manusmriti.

Addressing The Gathering, Mewani Said, "Whenever Modi visited Ahmedabad, they used to detain me. Now I have come to Delhi and they are trying to detain me again. The BJP has only practiced politics of breaking the country. I will practice politics of joining the country. The same will happen across the country. We will fight our battle with songs of love and fight in accordance with the rules of constitution."

"We are just going to demonstrate democratically and peacefully, the Government is targeting us. It's unfortunate that an elected representative is not being allowed to speak," added Jignesh.
Various student leaders spoke against the Modi government and demanded justice for Rohit Vemula, Najeeb Ahmed and the release of Bhim Army founder Chandrashekhar Azad.
Former JNU student leader Shehla Rashid said "The media and police kept saying yesterday that the rally would be cancelled as there is no permission. Andolan happens with or without permission."

Former President JNU Students Union Kanhaiya Kumar Said, "Today, the people are seeing that how an elected representative of the nation does not have the right to speak here today. He just wants to speak about the problem of the society here today. He wants to see youth of the nation getting jobs," Mevani said targeting the Centre and the BJP".
Speaking at the rally, student leader Umar Khalid said "hatingactivists like him would not help in betterment of the farmers, or solve unemployment."

Assam farmers leader Akhil Gogoi and senior Supreme Court lawyer Prashant Bhushan were also present.
Addressing the Gathering Bhushan said, "His generation had failed to bring social equality in the nation. "It is now time for the youth to fight the battle."

Assam farmers leader Akhil Gogoi at the Rally said, "We do not stand for any religion but we stand to protect our constitution."