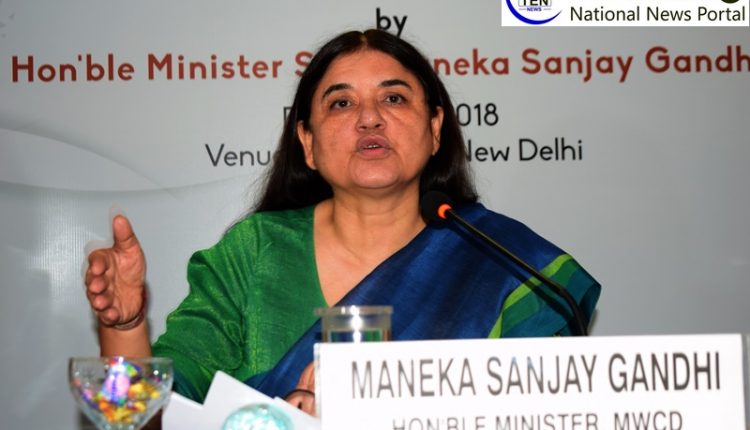 Maneka Gandhi Briefs Media on initiatives and achievements of Women and Child Welfare Ministry in past four years!
Prerit Chauhan (Photo/Video) By Lokesh Goswami Ten News Delhi :
New Delhi: A one of its kind round table was held today with various stakeholders under the chairmanship of Maneka Sanjay Gandhi Union Minister of Women and child development to discuss the issue of cyber crime against women and children, particularly the elimination of online sexual abuse material, rape imagery and other offensive material.

During the course of the discussions various Government departments including Ministry of Women and Child Development, Ministry of Home Affairs, Ministry of Electronics and information Technology, Central Bureau of investigation, Bureau of Police Research and Development, National Commission for Protection of Child Rights, Centre for Development of Advanced Computing etc. explained their initiatives and plans to respond to cyber crime against women and children.
Addressing the Media, Post Round Table, Maneka Sanjay Gandhi said, "The digital space is being increasingly used to perpetuate violence against women and children. Cyber platforms, due to the veil of anonymity they provide, are misused by the perpetrators to harass, intimidate, cheat, stalk and voyeur women and children".
Speaking on the initiatives and achievements of the Ministry of women and Child Development during last four years, Maneka Said, "We have Forensic Facility For Rape Cases, Sakhi Suraksha a Advanced DNA Laboratory to process cases ofsexual assault faster and more effectively to reduce case-backlog and deliver justice to Women and Children. Availability Of Rape Kit At Police Stations, To have swift redressal in rape cases, the Ministry is ensuring that police stations & hospitals across the country are equipped with rape evidence kits."
She further Said, "We launched She-Box, First of its kind online reporting and complaint management system for cases of Sexual Harassment at Workplace. We also launched 'Childline', Nationwide Emergency helpline for children in distress. Pocso e-box is another direct online reporting mechanism against child abuse which was launched in 2016."
"Another initiative by the ministry is New Taxi Policy Guidelines for improved women safety which was brought out in 2017 with better safety measures for women. MWCD has been working along with MHA to improve overall police responsiveness to gender sensitive cases and to bring visibility to more women in police force. Advisory issued to all State Governments to increase representation of Women in Police to 33% of the total strength." added Maneka.