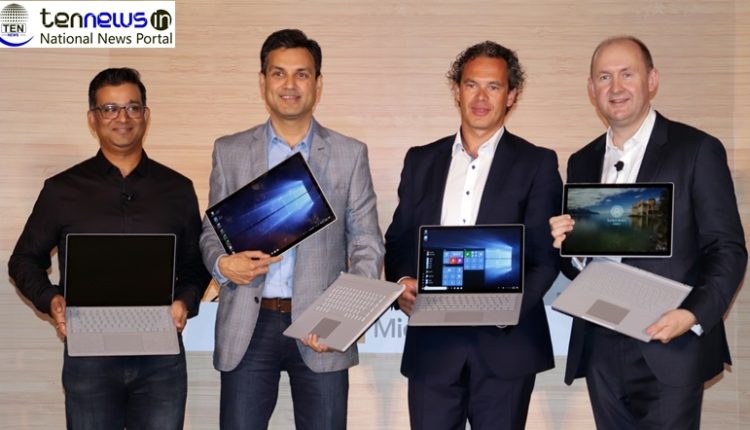 New Delhi: Microsoft on Tuesday, unveiled new entrants to its Surface family in lndia to empower enterprises and consumers to achieve more with the new ultimate Windows devices, the 'Surface Book 2', the most powerful Surface ever and the 'Surface Laptop', in addition to the already available Surface Pro.

Surface Book 2 gives the consumers power of a laptop, the versatility of a tablet and the freedom of a portable studio all in one beautifully styled device. Removing the barrier between a conventional desktop and laptop, the Surface Book 2 featuring the latest 8th Gen Intel Dual Core or Quad
Core processors, and NVIDIA GeForce GPUs.
Speaking on the occasion, Anant Maheshwari, President, Microsoft India,said,
"Surface embodies Microsoft's mission to empower people to do more. Globally and in India, it's encouraging to see the rapidly growing Surface community in, both, consumer and enterprise. Surface Book 2 and Surface Laptop have created new benchmarks in style speed, security and enabhng creativity. Today, we are excited to launch these innovative devices in India."
Speaking to Ten News, Jason Trump, Director, Surface Enterprise Sales, Microsoft said,

"Surface Laptop brings added choice to the growing Surface portfolio. There are set of customers that just want a classic laptop. Therefore, every detail was crafted to bring new form and function to the classic laptop design. Surface Laptop elevates design and performance in a sleek, elegant clamshell device."
"At Just 1.25 Kilograms and less than 14. 5 mm thin the surface laptop fits nicely into your favorite bag", added Jason.
The price of the Microsoft Surface Book 2 in India starts at Rs. 1,37,999 and that of the Surface Laptop begins at Rs. 86,999.