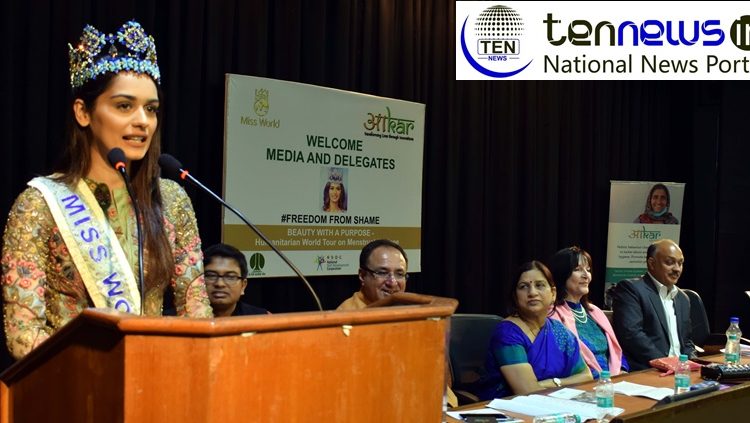 New Delhi: Seven beauty queens from around the world joined Miss World 2017 Manushi Chhillar as she came to town on her 'Beauty With A Purpose' tour with the 'Feminine Hygiene Awareness' campaign in Delhi.

On Tuesday, Manushi was at NDMC, Delhi along with other winners of continental Miss World Organization. Miss World 2017, also Interacted with 300 NDMC school girls and their female teachers about the "Menstrual Hygiene Management Curriculum".
The 'Beauty With A Purpose' campaign began in 1974, shared Julia Morley, Chairman and CEO, Miss World Organisation. The eight Miss World winners Stephanie Del Valle (Miss World 2016), Magline Jeruto (Miss World Africa), Ha Eun Kim (Miss World Asia), Annie Dian Evans (Miss World Oceania), Stephanie Jayne Hill (Miss World Europe), Solange Johnson Sinclair (Miss World Caribbean), Alma Andrea Meza Carmona (Miss World Americas) also spoke about their
experiences and explained why menstrual hygiene is a global cause.
Addressing The Gathering, Manushi Said, First of all i will talk about my project. Both of my parents are doctors and My parents are my idol. I believe that girl can do anything if she is healthy. I'm a medical student when i was studying i noticed there is limited use of sanitary pads. I have been brought up in metropolitan cities. I had no idea about the poor state of women's menstrual hygiene in our country and was shocked to see the real picture. Because ofthe many notions associated with menstruation, girls in villages are often forced to quit studies. Many others are married away".