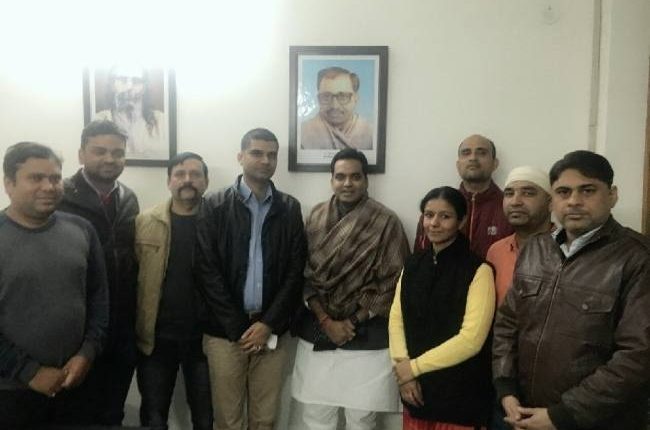 MLA Pankaj Singh meets NEFOWA Delegation, assures of raising buyer grievances in the assembly!
Ashish Kedia
(07/01/2018) Noida :
Delegation of Noida Flat buyers under the banner of NEFOWA met Noida MLA Pankaj Singh on Saturday and apprised him about their persistent grievance. The delegation claimed that under the direction of government authorities are only ensuring the completion of the projects which were half complete but nothing so far is being done for the projects which haven't started yet. The builders who are absconding leaving flat buyers and investors in lurch aren't being taken to task claimed the aggrieved buyers.
The delegation met Noida MLA at his office in the city and had detailed discussions on the issue. The issue of Amrapali, Unitech, JAYPEE, AVJ Cosmic etc. were raised during the meeting.
The issue of illegal construction in different projects, allotment of completion certificate without due diligence, conversion of green area in to parking space etc. were also raised during the meeting.
NEFOWA demanded that government should frame an exhaustive policy to deal with such over-delayed projects at the earliest and a time frame for the same must be fixed for the same.
MLA Pankaj Singh assured the buyers that he will certainly raise these issues in the assembly. He also said that complaints being brought forward regarding authority officials will also be dealt with strictly.
NEFOWA President Abhishek Kumar, Indresh Gupta, KK Kaushal, Dipakar, Jai Prakash Gupta, Sagar Chaudhary, Sumit Saxena, Shweta Bharti and others were present during the meeting.