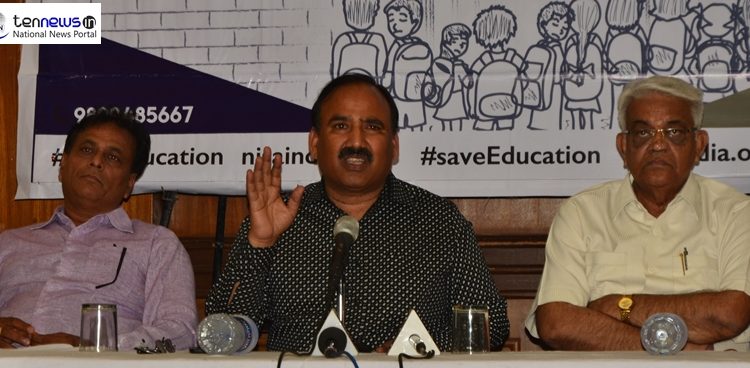 NISA to organize protest In Ramlila Maidan on April 7, 2018 to Save Education!
Prerit Chauhan (Photo/Video: Saurabh Shrivasta)
New Delhi: After A body representing private schools has sought the resignation of HRD Minister Prakash Javadekar, alleging that the government had failed to conduct the Board examinations in a fair manner.
National Coalition for School Education which is a union of seven national level associations of private schools, in New Delhi launched Shiksha Bachao Abhiyan (Save Education Campaign) with the help of National Independent Schools Associations (NISA).Across India 6489 schools have already been closed and 7898 have received a notice for closure between 2014-16, according to sources.
NISA will be organizing a protest on April 7, 2018 in Ramlila Maidan to address this issue and urged all the private schools across India to come and join hands in presenting their charter to Prime Minister Modi.
On Tuesday at Press Club of India, New Delhi, Commenting on this matter Kulbhusan Sharma, Chairman of National Coalition for School Education said, "Total enrolment in private schools has increased by 16 million students over the same four-year period. Students have been migrating from govt. schools to private schools in search of better quality education.While the state of education calls for urgent reform, government seems to be working only for appeasement and quick fix."
"7th April is just around the corner and we need to join NISA to save Education initiative to help improve the quality of education in our country.See you all at Ramlila Maidan", added Sharma.