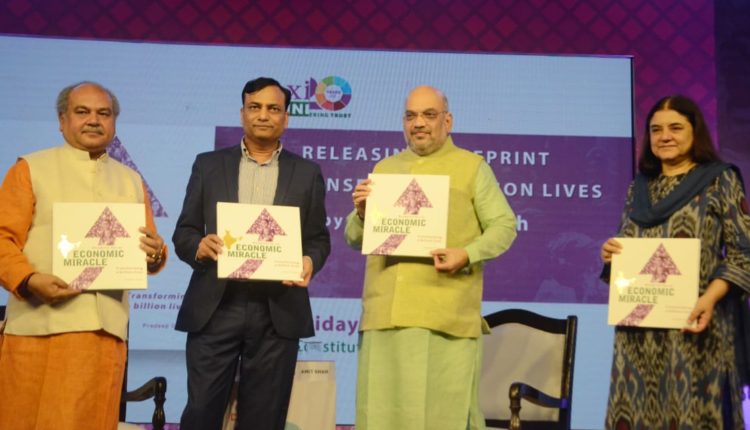 People press NOTA button by mistake, it should shift in middle: BJP Chief Amit Shah
Kashif Hasnain (Photo/Video) By Lokesh Goswami Ten News Delhi :
New Delhi: BJP President Amit Shah on Friday gave a shocking statement on NOTA. He said that voters mistakenly push NOTA button and Election Commission should shift this button on the middle of the EVM voting machine.
'The graph of NOTA voters have increased in the previous elections, though, people mistakenly push this button because it has been placed in the last of the EVM machine and people press it by understanding it first. If, Election Commission shift this button in the middle, consequently, the will sharply decline.'

To prove his argument he further argued that NOTA is an option for voters to show their disappointment towards the fighting candidates. Do you think, people waste their two, three hours by standing in a long voter's queue just to register their disappointment towards candidate? No, they wouldn't. They can do it at home.

He said while speaking in a book launch based on the agriculture transformation 'Blue Print for Economic Miracle' on Friday in New Delhi.
The book was written by Pradeep Gupta, who is a CMD of Axis My India, which is a market research and innovative media research organisation.

Speaking about the book he said, 'The book have various ideas to transform agriculture sector but these are not practical. If we implement China and USA's policy in India, certainly, it will fall apart.'
He further said, 'I'm agree with the writer that India can't be develop until agriculture development but it can't be done by the formula given in the book. It can implemented through NDA government policies and government is doing it. Slowly and steadily.'
Later, he lauded the NDA government policies to revamp agriculture sector and claimed that in last four years the government has done a lot for the sector but yet to achieve the milestone.
Subsequently, in a conversation with India Today journalist Rahul Kanwal, BJP chief Amit Shah spoken on the length of the subject and given account of four years of Modi government.
Union Finance, Railway and Coal minister Piyush Goyal, Union Minister for Rural Development Narendra Tomar and Union minister of women and child Development Menka Gandhi were also present in the event.