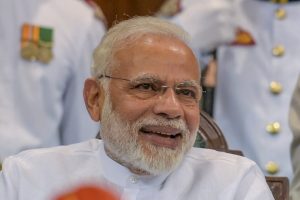 World Health Organization (WHO) has praised Prime Minister Narendra Modi's Swachh Bharat Abhiyan. WHO stated in its study aboout the health benefits of the Swachh Bharat Mission, which is a key program of BJP government, WHO Said that this program will save more than three lakh people from death in 2014 to October 2019 time period.
PM Modi on Sunday expressed his happiness on Twitter Referring to a letter he has Received from school students who appreciated PM Modi Initiative Swachh Bharat campaign.
While Referring to the Mail, PM Modi Tweeted,
Delighted to receive a letter from my young friend Samakit, who shares his experiences from a family holiday to Ladakh.
He also writes about his sense of pride towards our Armed Forces, which was heartening to read.
In a series of Tweet, PM Modi Referring to another letter by Pranav Saxena, said,
Pranav Saxena from Saharanpur expresses support for Swachh Bharat Mission and urges others to support it too.
It is this very feeling of ownership among 125 crore Indians towards Swachh Bharat Mission that has led to India making remarkable progress in cleanliness and sanitation.