New Delhi: On the occasion of International Labours Day, Delhi Chief Minister Arvind Kejriwal mounted attack on union government and Lieutenant Governor (LG) of Delhi for creating hindrance in the development of labours.
Targeting LG and Union Government, he said, "On the hint of union government, LG is hackling a democratically elected government and becoming the biggest problem in the development of poors and labours."
"People have given throne but LG and BJP has tied our hands and legs but we are making impossible thing possible." He said while pointing on the development being carried out in education, health and low cost electricity.
On the occasion of International Labour Day, Delhi government labour department organized a conference in Delhi, in which AAP party labour wing, different labour organisations and its worker took part.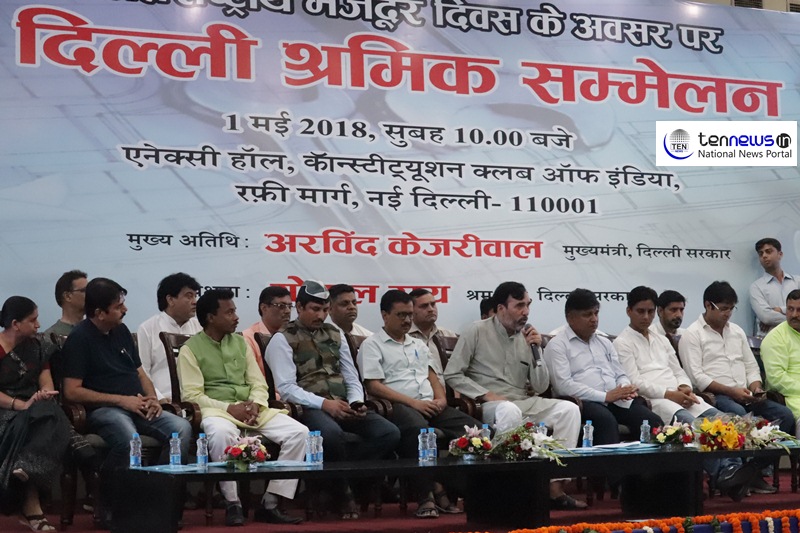 Hailing his government's achievement, CM Kejriwal said, "In the history of India, no government did such great work for labours and poors. AAP hiked 35% in minimum wage. Gave free water, electricity on cheaper rates and now  AAP is offering free bus passes to the Delhi government registered labours."
He further said, "Opposing parties brands AAP as a party of poors. Indeed, we are party of poors because in 2015, poors and labours have given their vote to APP not rich."
In an advising tone, later, CM Kejriwal said please teach your children, send them to government schools. That is why AAP government is developing school infrastructure in Delhi and making government schools at par with private once. "We don't want what you are doing your children do the same."
In the following event, Delhi Labour Minister, Gopal Rai said, "We are leaving no stone unturned to give rights to the labours. And we going to introduce slew of schemes for the labours."