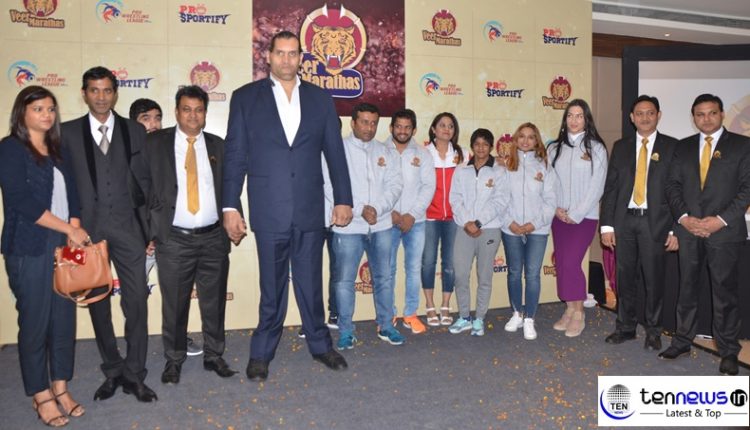 Pro Wrestling League 2018: Veer Marathas unveil their Squad in New Delhi!
PRERIT CHAUHAN (PHOTO/VIDEO BY SAURABH SHRIVASTAVA)
New Delhi: The Pro Wrestling League 2018 season is scheduled to begin on January 9. In this league, six teams are participating and the latest entrants into the Pro Wrestling League (PWL), Veer Marathas have arrived as a fresh breath of air, with the owners vowing to pump back into the sport every penny they raise from the championship, including all the sponsorship money.
On Monday In New Delhi, Veer Marathas, the latest franchise in the Pro Wrestling League Unveiled
Their Squad. The entire team, led by Praveen Rana, Ritu Phogat and Marwa Amri, along with the team's owners, Ranjit Saxena, Ravi Jain,Vishwajeet Saxena, Gaurav Wankhede and Sameer Jain were present at the Programme. Like the rest of the teams, the Maratha team also has 9 wrestlers, including the female wrestler. The team also has some well-known and talented Wrestlers.
The Great Khali came from U.S. for promoting the wrestling and graced the Press Conference for Veer Marathas in New Delhi. While Speaking to Ten News Khali Said, "I came all the way from U.S. because I want to promote wrestling in India & PWL is one of the great platform to encourage our wrestlers to showcase their talent."
Younger Phogat sister of Dangal fame, Wrestler Ritu Phogat Exclusively Speaking with Ten News Said," I'm delighted to be part of the Marathas,PWL is certainly the best platform for all the wrestlers".

Wrestler Praveen Rana has alleged that Sushil's supporters beat him and his elder brother post the match for daring to take the mat against the former. Addressing the Media Rana Said, "I am going to step into the PWL with everything in mind, to avenge my unfair defeat."