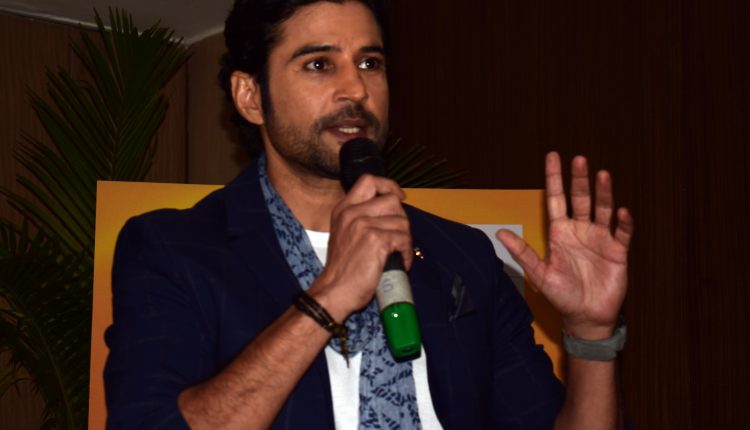 Rajeev Khandelwal to give never seen before sneek peak of Celebrity life with new talk show 'JuzzBaatt…'
Kashif Hasnain (Photo/Video) By Lokesh Goswami Ten News Delhi :
Delhi: 'You can call it a journey of struggles and milestones, an experience of a lifetime, a moment of nostalgia, or a jog through the deepest and most inspiring crevices of one's favorite celebrity's life', said celebrated star of small screen Rajeev Khandelwal today.

Highlighting and celebrating stories of inspiration, aspiration and entertainment of filmy icons, Bollywood actor Rajeev Khandelwal has brought a light-hearted talk show on Zee TV, "JuzzBaatt… Sangeen Se Namkeen Tak".
Host of the show, Rajeev Khandelwal, was in National Capital on Tuesday to promote his 26-episode long chat show.
Juzzbaatt was launched earlier this month and it airs every Saturday and Sunday at 7 PM on Zee TV.
The chat show provides the great Indian middle class a glimpse into the rise and shine of acclaimed celebrities whom they love and idolize.

Rajeev Khandelwal who is returning to TV after the gap of three years is hosting the show.
During a promotional show in Delhi he said, "JuzzBaatt… Sangeen Se Namkeen Tak' is a candid chat show where, through a slice-of-life conversation, celebrities reveal their personality, their closest relationships, struggles and adventures which make them human and relatable to audience."
He further said, "JuzzBaat… Sangeen Se Namkeen Tak sets itself apart from other shows, owing to a concept which delves into the inspiring stories of celebrities from being just regular ordinary folk to extraordinary achievers. Most of the celebrities will be the ones with whom I will interact for the first time, a few of them will be my friends/colleagues and we will try to have a candid chat based on our personal relationship built over the span of my stint in the industry. So, the show will be as real as it can get. I don't know how the show will pan out as each story will be very different from the rest but l can promise you that it will not remind you of any other talk show."