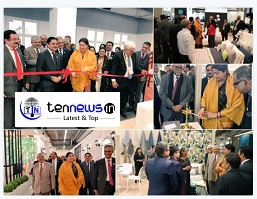 Smriti Irani Inaugurates India Pavilion at Heimtextil Frankfurt
Over 390 Indian companies have come together together to showcase the country's textile expertise at the world's biggest fair for interior textiles – Heimtextil this week. The trade fair, regarded as the biggest and most important international platform for home furnishings and textiles, was inauguated by Hon'ble Textile Minister Smriti Irani in Frankjfurt and hosts India as the second largest participating company
Also the first trade fair of the year for its sector, Heimtextil 2018 will be a trend barometer for the whole business year, spotlighting new trends and innovations in interior textiles, home furnishings, household textiles and a range of allied services. Representing India's strengths in these key segments, over 390 home furnishing and textile manufacturers will present their latest collections and textile innovations at the fair. Among the exhibiting companies at Frankfurt are India's leading players like Alps Industries, D'Decor, Reliance, Shri Laxmi Cotsyn, Trident and Welspun among others. 
Also representing India's design talents is the winner of Interior Lifestyle Awards 2017  – Ms Malhotra from who has carved her journey from Himachal to handloom heart in Delhi to Frankfurt and showcases a collection of home textiles and Traditional Handloom Designs in Home furnishing and fabrics made with Yak wool, Himalayan sheep wool, Silk Wool.
Leading government bodies including the Cotton Textiles Export Promotion Council (TEXPROCIL), Handloom Export Promotion Council (HEPC), and Export Promotion Council for Handicrafts (EPCH) are participating collectively with over 390 Indian manufacturer-exporters, marking the 2nd largest participating country among the exhibiting companies.Second only to China, India's participation is set to open doors for sector players for textile trade worldwide. 
In the domestic arena, Indian home textile industry is expected to expand at a CAGR of 8 per cent and reach USD 5.29 billion by 2018. During the same period, curtains & upholstery and rugs & carpets will grow at CAGR of 8 per cent and 9.4 per cent respectively. Vying for this lucrative market, global players are set to come to the Indian edition of Heimtextil in June this year. Among these are leading industry giants such as D'Decor, Welspun, Raymond, Reliance Industries, Sheena Exports, V& J Furnishing etc.
At the Frankfurt fair, Hon'ble Textile Minister Smriti Irani also met Messe Frankfurt representatives wherein discussions centred on greater participation of India at Heimtextil in the coming years as well as organisation of international trade exhibitions jointly that would benefit bilateral textile trade relations. Heimtextil India will take place from 27 – 29 June 2018at Pragati Maidan in New Delhi alongside the world-renowned Ambiente India fair thus targetting the full spectrum of home textiles, furnishings and interior decor.
While Heimtextil India will provide the much needed impetus to the India's home textile, decor and handicrafts sector by fostering trade and design exchange, India's participation in Frankfurt is set to inspire confidence among global consumers.