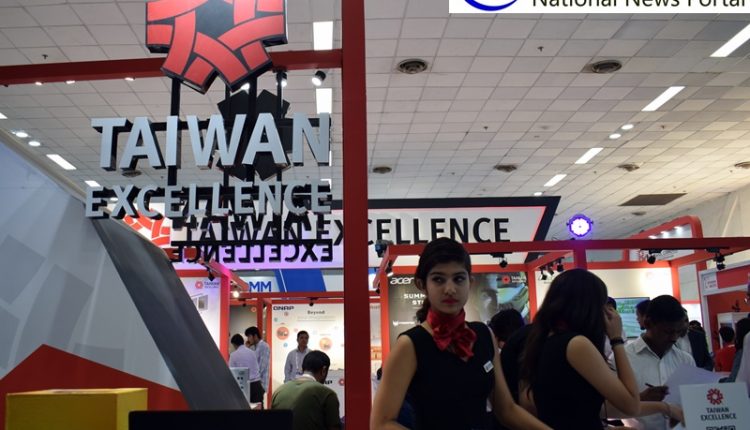 New Delhi: If you are a tech-sevy and wants to experience latest technologies just visit Taiwan Excellence stall at Pragati Maidan where Convergence India Expo 2018 is being organized.
The rapidly picking lCT market in India received a major shot in the arm when some of the best brands from the global lCT market showcased their products at an expo here. Taiwan Excellence displayed its advanced and award-winning products at the recently held Convergence India 2018 in New Delhi. The exhibition was held at Pragati Maidan from March 7 to 9, 2018.

India is already experiencing a robust business environment thanks to the various initiatives to empower citizens. The country is now witnessing the heralding of a digital transformation that has transformed its economy. Taiwan-based lCT brands have supported each of these initiatives and are contributing seminally in the making of strong 'digital India' of the future.
Participating in the Convergence Expo for the 2nd consecutive time, Taiwan Excellence reiterated its commitment to align with India's digital development mission. This year, the organization unveiled some never-seen-before cutting-edge products at the expo like the BenQ ScreenBar e-reading lamp AR_17, which was specially launched at the event. Also, on display were some stateaof-the-art digital innovations including Avision A4 Black & White Laser MFP AM3OA Series, Edimax EdiGreen AirBox Indoor Air Quality Monitoring Solutions Al-ZOOZW, Acer abSignage etc.
Among the featured brands during Convergence India 2018 are M31, 3 brand that resonates gaming experience; ASUS, a household name in India for superior laptops; and Plustek, known for its world-class quality scanners. The exhibition also featured other prominent brands such as GlGAbyte, company supplies some of the most trusted motherboards, graphic cards, and computer notebooks on the global market today; Thermaltake which is known for three main brandSe-Thermaltake, Tt eSPORTS and LUXAZ-and have been merchandising high-quality products throughout the world, D-Link Corporation, Aifa Technology Corp, Silicon Power Computer & Communications Inc and so on. A host of senior corporate leaders and stalwarts from leading Taiwanese brands attended Convergence India 2018 including 2017.
Speaking with Ten News, Deputy Director of Strategic Marketing Department Mario Tasi said, "Taiwan has been supporting the Government of India in various path breaking initiatives like Make in India, Digital India and Skill India. By participating in Convergence India Expo 2018, we wished to share our expertise in the field of ICT with other Indian as well as global companies. This expo has been a great platform to share ideas and network with other stakeholders from the industry. We have been able to build some great partnerships through this expo."
Convergence India serves as a platform to showcase the latest trends and technologies related to Telecom, Broadcast, Cable and Satellite TV, Cloud & Big Data, IoT, Digital Homes, Mobile devices, Film and Radio, Content Creation, Management and Delivery, etc. It helps digital innovators, international business gurus, telecom and broadcasting czars, leaders from IT & Internet and ICT industries for networking.
Taiwan Excellence is a symbol of Taiwan Excellence honors Taiwan's most innovative products that provide tremendous value to users worldwide.
All products carrying this symbol have been selected as winners of specific Taiwan Excellence Awards based on outstanding R&D, design, quality, marketing and Made-in
Taiwan merits.