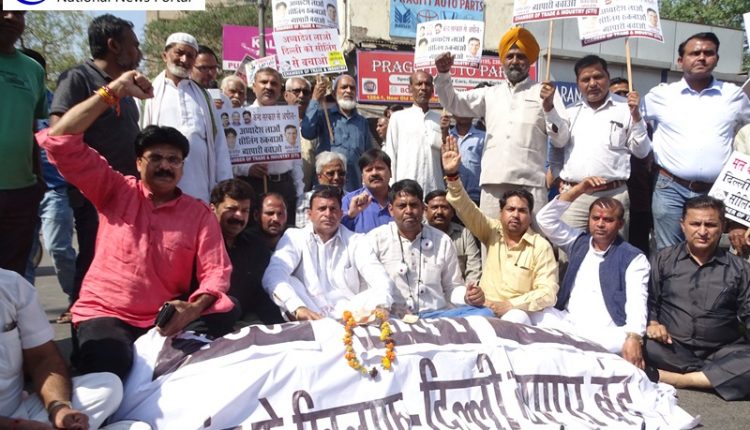 (13/03/18) New Delhi: Ongoing sealing drive has chocked the city even after three months. Traders association of the city unanimously called 'Delhi Bandh' third time and organised a 'Shav Yatra' of Sealing from Kashmiri Gate to Raj Ghat today to register their protest.
Members of different traders associations gathered at Kashmiri Gate and chanted score of slogans such as 'Adhyadesh Lao, Delhi Bacaho' (Pass an anti-sealing Bill and Save Delhi), "Rajniti Nahi, Kaam Karo" and so on and burn effigy of the monitoring committee and sealing.
Since the inception of sealing drive, traders' associations have been demanding to pass an anti-sealing bill in the Parliament, notify 351 roads, de-seal all the sealed shops and form a committee to prevent any further sealing.
During the sealing drive, score of illegal shops have been sealed in different markets of the National Capital, however, all political parties failed to chalk out a solution and indulged in war of words.
While talking to the Ten News, secretary of the Chamber of Trade and Industry (CTI) Vijendra Yadav said, "Due to the sealing drive, numbers of businessmen or shopkeepers are on the verge of starving. Today numbers of traders are holding 'Shav Yatra' from Kashmiri Gate to Raj Ghat and registering our disappointment against sealing."