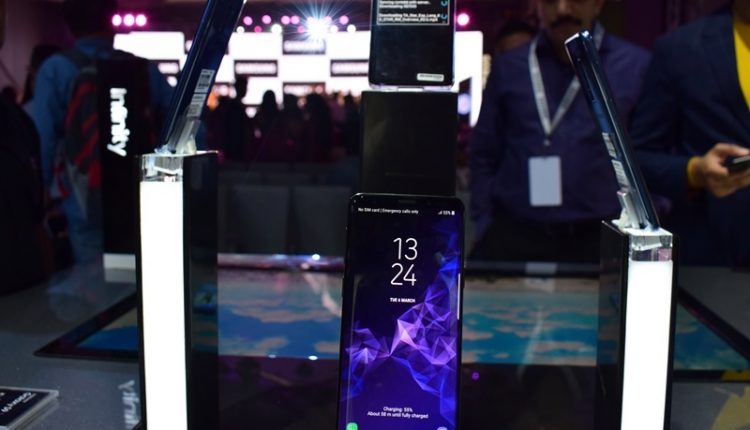 New Delhi: Samsung always walks an extra mile to satisfy their customers thirst for innovation. With their two new Smartphone's Galaxy S9 and S9 Plus Samsung is offering a slew of benefits for their old and new customers.

Samsung has launched Galaxy S9 and S9+ on Tuesday in India. Customer can book these on Flipchart and it will be available in the stores from March 16, 2018.
Samsung has partnered with top operators in the country to bring amazing value added deals which give users unmatched data, unmatched tariffs and unmatched entertainment packages. Samsung has tied up with Airtel and Reliance Jio to offer 2.5x faster data speeds on 4G LTE network across the nation. While to provide unlimited entertainment the company has tied up with Vodafone so the customers can enjoy unlimited entertainment on Netflix.
Let's see what you get with S9 and S9 Plus:
-Samsung has also tied up with leading carriers for the launch offers. The Galaxy S9 will be available for Rs 9,900 for Airtel users with a 24month postpaid plan starring at Rs 2,499. Reliance Jio will offer the Galaxy S9, Galaxy S9+ consumers a special annual tariff plan of Rs 4,999, and Vodafone users will get a free one-year subscription for Netflix streaming.
Samsung Rewards
Samsung's flagship mobile payments service, Samsung Pay has been a big success in India since it was launched last year and has revolutionised the way India pays. Simple and Secure, Samsung Pay can be used to make purchases almost everywhere you can swipe or tap your debit or credit card to make payments. There are new partnerships with more banks, UPI payments, a Gift Card Store and the option to pay bills seamlessly.
Now using Samsung Pay in India will be even more rewarding with Samsung Rewards, a new loyalty programme. Samsung Pay users will be able to accumulate reward points when they spend across payment modes such as Cards, government's UPI, digital wallets such as Paytm and MobikWik and make bill payments. Samsung Reward points can be redeemed for attractive benefits such as movie tickets, shopping or F&B vouchers. They can also be used to get discounts on Samsung products.
Body and memory
-Samsung sets the gold standard for smartphones with IP685 water and dust resistance and fast wireless charging and goes a step beyond with Galaxy S9 and S9+. The devices now support expandable memory of up to 400GB with a Micro SD Card and are equipped with the latest premium application processors offering powerful performance and sophisticated image processing.
Security
Galaxy S9 and S9+ give users peace of mind knowing that their phone is protected by Knox 3.1 , Samsung's latest defense-grade security platform. Galaxy S9 and S9+ support three different biometric authentication options iris, fingerprint, and facial recognition so users can choose the way they want to protect their device and applications. The devices introduce Intelligent Scan, a new verification that intelligently uses the collective strength of iris scanning and facial recognition technology to quickly and conveniently unlock a user's phone in various situations.
Device that Fits 3 Connected Lifestyle
For those constantly on the move, the next-generation Samsung DeXPad empowers a mobile lifestyle by enabling a full-screen desktop experience using the Galaxy S9 and S9+. Users can easily connect Galaxy S9 and S9+ to a larger monitor. Keyboard and mouse to expand the mobile experience with enhanced document editing capability and full screen entertainment. While connected to the Dex Pad, both mobiles can also be used as a touchpad to navigate the rich desktop-like experience of Galaxy Desktop on your connected external monitor.
Price & Availability
Galaxy S9 and Galaxy S9+ will be offered to consumers at a price of INR 57,900 and INR 64,900 respectively for 64GB variants and INR 65,900 and INR 72,900 respectively for 25668 variants.
The smartphones will be available in India starting March 16, 2018, the same day as the Global Launch, in three distinctive colours-Midnight Black, Coral Blue and a new hue, Lilac Purple. They will be available at select retail stores and online exclusively on Samsung's official online store Samsung Shop and Flipkart.
Cash backs
Users can get cash back of lNR 6,000 when they purchase the device by scanning the Paytm Mail QR code at select retail stores.
They canaiternativeiy get a cashback of lNR 6,000 if Galaxy S9 and S9+ are purchased using 'No Cost EMI' on HDFC Bank debit and credit cards. They will also be eligible for the cashback when making a full payment using HDFC Credit Cards or by paying through HDFC CD Loan.
Under the Samsung Upgrade programme, loyal Samsung Galaxy users will be eligible to get additional lNR 6,000 bonus over the regular exchange price when they upgrade to Galaxy S9 or Galaxy S9+.
Plans with the mobile
Galaxy S9 and S9+ users can avail a Double Data 'offer on Airtel's popular infinity Postpaid plans. With infinity 499, users get 80 GB of data, unlimited calling, and a one year Amazon Prime membership worth lNR 999. With infinity 799, users get 1206B of data, unlimited calling, a one year Amazon Prime membership and one free child connection. Both plans also offer free subscription to Airtel TV and Wynk Music. A special Prepaid Pack  INR 199 with 1.4GB data/day and unlimited calling for 28 days is also being offered.
Galaxy S9 and S9+ users on Jio get an exclusive offer of 1 Terabyte of high speed 46 data with unlimited voice & 8M8 for one year worth lNR 15,000 at only lNR 4,999. The users can now enjoy uninterrupted digital services without any daily data usage limit. Additionally, users are entitled to complimentary Jio.