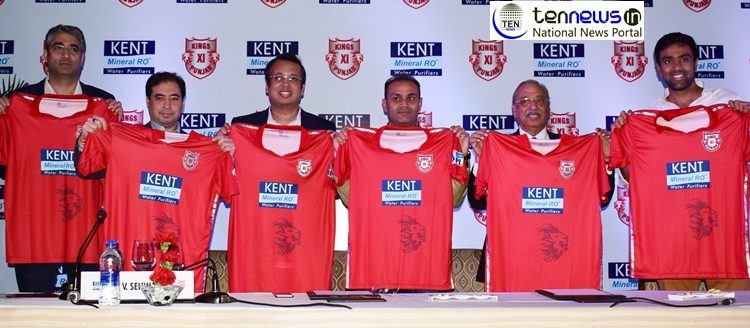 VIVO IPL 2018: King XI Punjab Unveils The Official Jersey for IPL 11th Edition in Capital!
Prerit Chauhan (Photo/Video) By Lokesh Goswami Ten News Delhi :
Delhi: Gearing up for the 11th edition of the VIVO IPL, Kings Xl Punjab today unveiled the Official Jersey for the season. The jersey was launched in a joint press conference with Title Sponsor, Kent RO Systems Ltd. Kent will occupy their place on the front of the Kings XI Punjab Jersey this year.

The Kings Xl Punjab jersey boasts of the traditional red and silver colours, with the famous crest logo sitting proudly on the left chest. Symbolically, the two lions on it represent the legendary Maharaj Ranjit Singh, and the erstwhile Maharaja of Patiala, Bhupinder Singh. The latter was the first lndian to lead an Indian cricket team to Lord's in 1911 and was instrumental in setting up of the BCCI. Together the two lions depict the strength & fierceness of the Punjabi and the desire to excel in cricket.
Addressing the Media Mahesh Gupta, CMD, Kent RO Systems Ltd. said, "We are happy to be primary sponsors to Kings XI Punjab. It is a new team and is expected to perform well and we sincerely wish them to win this year. This association will help us connect to Kings XI Punjab fans."

The side will be captained by Ravichandran Ashwin, who played for the RisinyPune Supergiant (RPS) in the last two seasons. The Punjab side is being mentored by Virender Sehwag, who was present at the unveiling along with the newly appointed captain. Former Australian batsman Brad Hodge is the head coach of the team.