Win exciting prizes by becoming Champion of Road Safety at Honda Activity Zone in Auto Expo 2018!
ROHIT SHARMA / ASHISH KEDIA
(12/02/18) GREATER NOIDA :–
Auto Expo 2018 has a plethora of activities going on simultaneously to keep visitors gripped and occupied. Road safety and safe driving are one of the prime initiatives that are being promoted aggressively by different automobile companies at the expo.
One of such exciting pavilion is that of Honda two wheeler which is extensively promoting the cause of safe driving through different activities. There is a driving route where a rider has to drive his bike through different obstacles in record time. All bike riders are given different safety gears while performing these activities and every winner gets exciting prizes.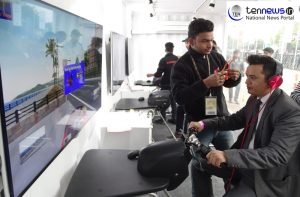 There is also a selfie zone where riders can flaunt their safety gear selfies and get prizes. However the most exciting part of this particular stall is the one housing  3D vehicle simulator that evaluates the users on various parameters including driving skills, respecting traffic rule etc. Every participant who goes through these activities will win prizes.
In all honesty, this remains one of the most exciting activity zones that you can visit in this auto expo. So make it a point to visit this once you are at Auto Expo 2018.