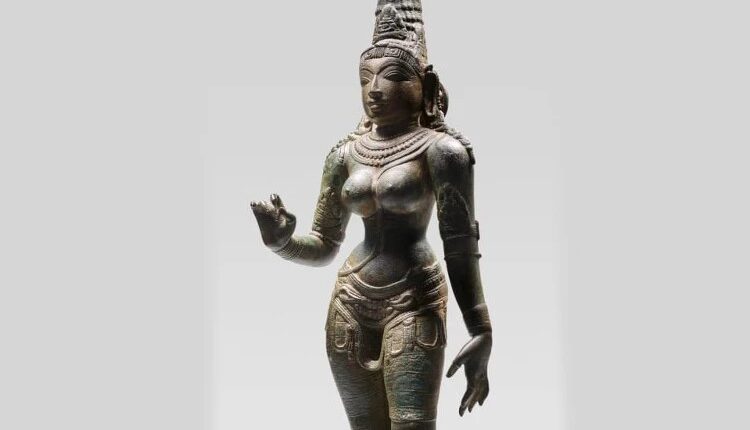 12th century Parvati idol stolen from India found in New York
Ten News Network

Tamil Nadu, August 10th,2022: The 52-cm Parvati idol, which was stolen in May 1971 from the Nadanapureshwarar Sivan temple in Tamil Nadu has finally been found at the Bonhams Auction House in New York after 50 years.
Over the past few years, India has amplified efforts to bring back idols and other artifacts which were stolen or smuggled from temples. A senior police officer from the Tamil Nadu Idol Wing has said that the official documents to bring the idol back to India are being processed and will be ready soon. The Parvati idol was reported missing in 1971 after which the investigation officially began in 2019 when an individual filed a complaint. The investigation was led by the Idol Wing of the Tamil Nadu police which traces missing artifacts.
The missing Parvati idol was one of the five missing artifacts from the temple. Police have said that this idol is valued at $212,575, approximately 1.6 crore rupees. The idol features a goddess in a standing position wearing a crown of rings kept atop each other. The idol dates back to the Chola period and is made of copper-alloy. The idol is a testimony to the rich and humongous Chola dynasty, one of the longest-ruling empires in world history, which ruled southern parts of India from the 10th to 13th century. Police sought the opinion of an expert to compare a photograph of the idol with the one on sale at Bonhams Auction House. There is no official statement from Bonhams yet. In 2020, the UK returned three bronze sculptures stolen from a Tamil Nadu temple more than 40 years ago to the Indian government.
Affirming the constant efforts in brining back such treasures, in February, Prime Minister Narendra Modi said that "more than 200 precious idols" have been successfully brought back to India since 2014.