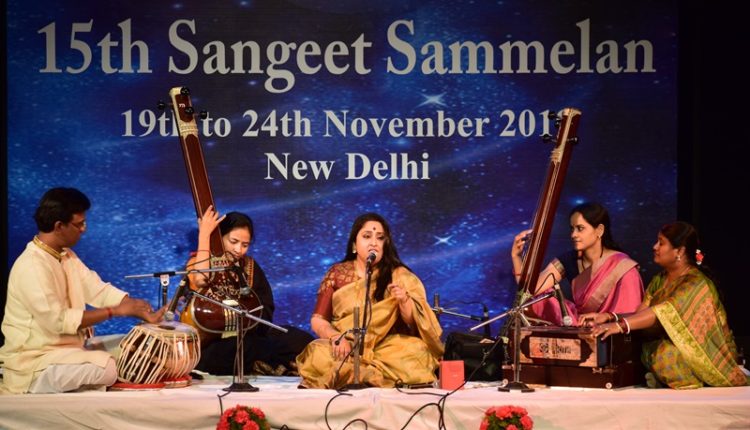 15th SaMaPa Sangeet Sammelan concluded with performances by Young Talents
New Delhi, November 2019; SaMaPa (Sopori Academy of Music And Performing Arts), the well known music academy and music organization of India by music legend Pandit Bhajan Sopori and music maestro Abhay Rustum Sopori has organised the 15th Annual edition of its five days long prestigious SaMaPa Sangeet Sammelan, acclaimed as the topmost classical festival of Delhi and one of the most prestigious festivals of the country. The festival will take place at India Habitat Centre on 19th & 20th November 2019, and continue on 22nd, 23nd and 24th November 2019 at Kamani Auditorium, Copernicus Marg, New Delhi.
The festival is being presented in collaboration with Incredible India, Ministry of Tourism, Govt. of India and IFFCO. The festival will also feature the Annual Painting Exhibition by the artists of J&K presented by SaMaPa and J&K Academy of Art, Culture & Languages. During the 5 day musical extravaganza prestigious SaMaPa awards, the exclusive national level honours pertaining to Jammu & Kashmir would also be given on 22nd November.
The first day began with a Tabla solo by Deepak Sahai, he presented Raaga Yaman. He was accompanied by Ghanshyam Sisodia on Sarangi. The second performance was a vocal recital by Piu Mukherjee, she was accompanied by Durjay Bhaumik (Tabla), Paromita Mukherjee (Harmonium). The concluding performance of day 1 was by Hafiz Bale Khan & Rais Khan (Sitar Duet) accompanied by Rafiuddin Sabri (Tabla). All the three presentations were very soulful and were appreciated with the audience. During the program Sitar player Hafiz Bale Khan (Bengaluru), was awarded with 'SaMaPa Yuva Ratan Samman' in recognition of his conspicuous talent and achievements in the field of Hindustani Classical Music.
Second day of the festival will see performances by Young Talent – Waseem Ahmed Bhatt (Vocal) accompanied by Dinesh Uniyal (Tabla), Lalit Sisodia (Harmonium), Debasmeeta Bhattacharya (Sarod) accompanied by Mithilesh Jha (Tabla) and Ruchira Panda (Vocal) accompanied by Akhtar Hasan (Tabla), Paromita Mukherjee (Harmonium).
This year SaMaPa Sangeet Sammelan 2019 is featuring some of the eminent musicians of Indian classical music including music legend Pandit Bhajan Sopori & maestro Abhay Rustum Sopori (Santoor), Pt. 'Mahant' Vishambhar Nath Mishra (Pakahwaj), Vidushi Malini Awasthi (Vocal), Pt. Kushal Das (Sitar), Guru Nalini-Kamlini (Kathak), Deepak Sahai (Tabla), Piu Mukherjee (Vocal), Hafiz Bale Khan & Rais Khan (Sitar Duet), Waseem Ahmed Bhatt (Vocal), Debasmita Bhattacharya (Sarod), & Ruchira Panda (Vocal).
Talking about the festival, Santoor Legend Pt. Bhajan Sopori said, "SaMaPa believes in bring something new for Delhi music connoisseurs. The young talent is amazing and getting stage here would boost their confidence. At Kamani Auditorium, we'll have debut of Pt. Vishwambhar Nath Mishra (Pakhawaj), who is also the 'Mahant' of Sankat Mochan Mandir Varanasi, in Delhi".
SaMaPa's General Secy and Santoor Maestro & Composer, Abhay Rustum Sopori shares that, "This year's edition is quite special as it's the 15th Annual edition of the Sammelan, which has over the years grown into NCR's top most classical music festival. This year the festival is featuring over 100 performs including 65 musicians and 35 students from different schools of Delhi NCR.
The Classical music connoisseurs will witness some special presentation and rare Ragas and Talas this year by different performers."
SaMaPa is a cultural movement translating from a deep rooted vision of its Chairman, the Music Legend Pandit Bhajan Sopori and the tireless efforts of the members of Board in creating a unique, unbiased and empowering national level platform for presentation, propagation, and teaching of traditional music and performing arts for the artists and the young talents.
SaMaPa is acclaimed as a Cultural Bridge of Jammu & Kashmir with the rest of the country and to have created a new generation of music connoisseurs. SaMaPa widens its horizon into the general masses by creating the right platform for better appreciation and understanding of the traditional music and its technicalities, and enabling them to utilize the power of music in leading a more balanced life, as well as exploring opportunities with music as means to their employment.
SaMaPa recognizes the contribution of several artists, leaders, officials and individual personalities for their tireless efforts in propagating and keeping the traditional system of music alive.