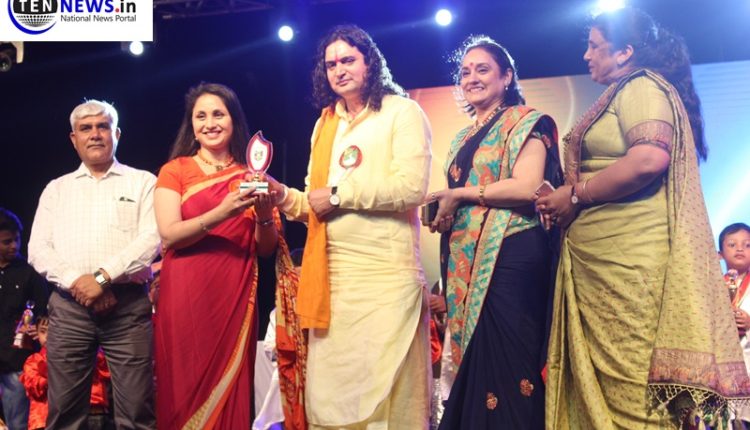 1st annual extravaganza with great zeal held at Sheoran International School ,Gr Noida
Saurabh Kumar / Photo & Videos By Baidyanath Halder
Greater Noida (31/03/2019) : Yesterday Sheoran International School celebrated its 1st annual extravaganza with great zeal and enthusiasm. During the event weather seemed unpleasant – Gusty winds and thundershowers troubled for a while but even though student's energy remained high.
The beautiful evening began with the welcoming of guest and lamp lighting ceremony by the eminent guests. Balmukund Ji Maharaj was the chief guest for the event and Bachchu Singh Registrar GBU is the Guest of honour for the event. Sushma Malik principal and Uday Veer Singh Chairman also remained present.
Cultural performance began with an energetic dance performance on Ganesh Vandana. A graduation ceremony was organized for K.G students in which school principal handed students their annual result. As the tiny tots dressed in scarlet gown entered the stage parents got mesmerized looking their wards in this attire. Choir presented by students enthralled the audience with the soulful rendition of the music and sleeked applauses for the efforts.
Presenting the annual report Principal Sushma Malik told that "we are the only school in area which has collaboration with next education learning. We have a fullY setuped lab by IIT Mumbai. School follows syllabus designed by NCF and follows all the guideline of CBSE. Art curriculum of school is designed by National Institute of Fine Arts."
During the award ceremony, students' exemplary achievements in Scholastics and Co- scholastics areas were acknowledged and were facilitated by the chief guest with trophies and certificates under different category. The program concluded with presentation of vote thanks followed by National Anthem.
Photo Highlights of annual extravaganza 2019 celebrations at Sheoran International School