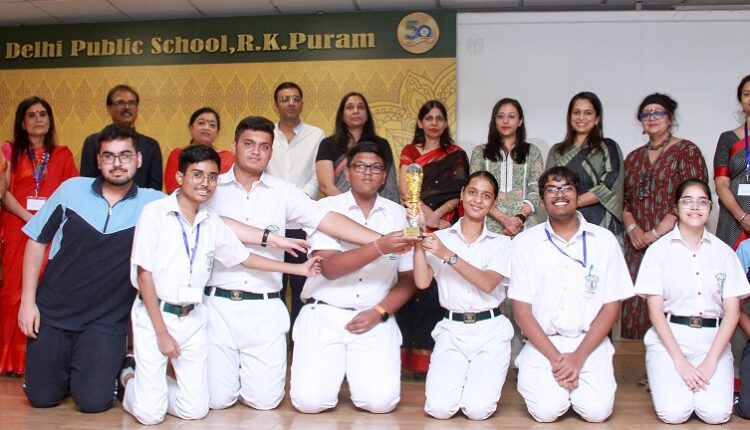 30 Schools participate in COMASTITVA 2023 hosted by DPS RK Puram

Over 30 schools participated in ComAstitva'23, an annual inter-school festival hosted by the Commerce and Economics Department of DPS R.K. Puram, which was held recently. The festival consisted of both offline and online events, allowing students from schools across Delhi-NCR to showcase and expand their commercial and entrepreneurial skills.
A variety of events gave exposure to students of grade XI and XII to the world of finance, economics and business, helping them to develop a marketing mindset and various other business related skills. The online events consisted of Eureka (The Idea), which provided a platform for students to exhibit their innovation and marketing skills by creating digital presentations on business ideas related to topics like education, healthcare, and FinTech; Fincature, where participants were instructed to provide a caricature depicting an accounting principle or concept; VideoVerse (Online Video-making Competition), where participants were expected to make a one minute video analysing the monetary policy of the United States and its effect on India and the rest of the world; The Speaking Ninjas, which challenged students to articulate their viewpoints on diverse matters in the business realm; The Accounting Bingo, where participants were invited to attempt a time-bound questionnaire; and Econexus-Design & Slogan Extravaganza, which required the participants to design a unique Indian G-20 logo along with a slogan.
Winners in each event are as follows:
EUREKA: AMITY INTERNATIONAL SAKET
FINCATURE: DELHI PUBLIC SCHOOL, BULANDSHAHAR
VIDEO VERSE: THE INDIAN SCHOOL
SPEAKING NINJAS: DELHI PUBLIC SCHOOL, FARIDABAD
ACCOUNTING BINGO: DELHI PUBLIC SCHOOL, ROHINI
ECONEXUS: DELHI PUBLIC SCHOOL INDIRAPURAM
OVERALL WINNERS: DELHI PUBLIC SCHOOL, FARIDABAD