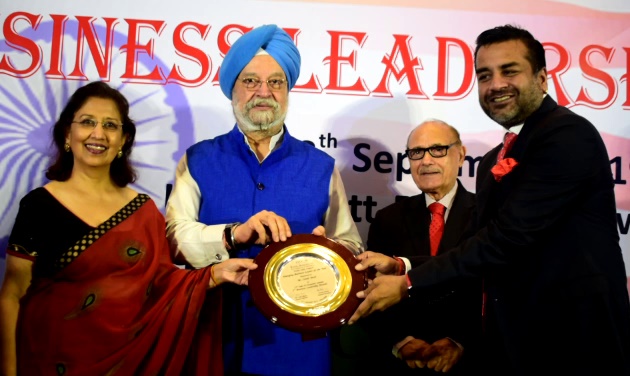 5th Business Leadership Awards held in Delhi! IACC comes up with 15th Indo-US Economic Summit!
Rohit Sharma (Photo-Video) Lokesh Goswami Tennews New Delhi :
New Delhi (14/09/2019): United States of America on Friday expressed its concern on its increasing trade deficit with India in the last couple of years and hoped that with Indo-US Business CEO Forum meeting here in New Delhi sometimes in early future would explore possibilities to strike a suitable balance between the bilateral trade of India and US for better tomorrow.
The aforesaid observations were made by Minister Counselor for Commercial Affairs US-FCS Aileen Nandi while addressing 15th Indo-US Economic Summit under aegis of Indo-American Chamber of Commerce- North India Council (IACC-NIC), exuding confidence adding that the bilateral trade would progress with balancing approach in future.
According to her, the targeted trade between India and US for immediate future would be achieved with corrective measures in place and even exceed the way the two nations are progressing in their trade advancement negotiations. She hoped that both India and US would accelerate their trade in defence, agriculture, Goods & Services of multiple dimensions including IT and IT-enabled services.
Speaking on the occasion, Summit Chair Indo-American Chamber of Commerce, Lalit Bhasin expressed confidence that Indo-US bilateral trade has begun to multiply with Indian businesses finding and realizing investment opportunities in the diverse landscape of the United States as according to him, Indian businesses have made an investment in US in recent past that roughly measures at US$ 13 billion. "Likewise, efforts should be made and conditions created so that similar flow is generated for the US investments towards India though the industry of US is largely represented in India in host of economic activities", concluded Dr. Bhasin.
Union Minister of State for Housing and Urban Affairs; Civil Aviation; Commerce and Industry, Hardeep Singh Puri speaking at the session said, "Anyone Who Understands Economy Will Know That It Is Normal That Our Economy Is Going Though Adjusments After 11 Years Of Consistent Growth."
While speaking to Ten News, Hardeep Singh Puri shared the future plans related to the redevelopment of Central Vista. He said, "We are soon going to rebuild the central attractions of Delhi which need to be reconstructed because of its long period of survival."
Although there was no hint from his side regarding the budget and time for the upcoming initiative but he sounded damn sure about it!