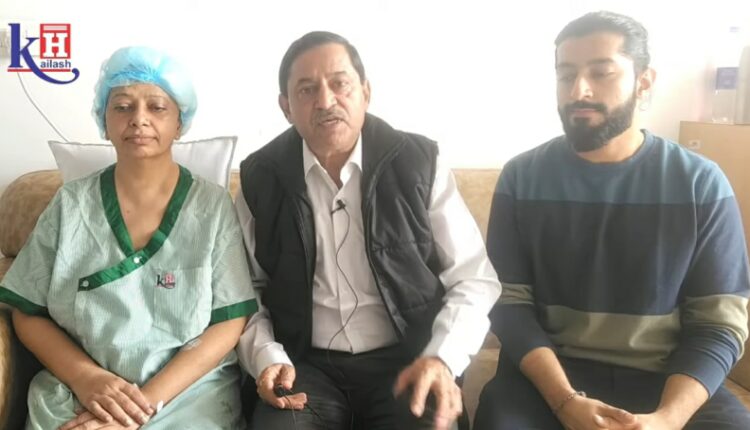 8 hours long complex Neurosurgery successfully performed at Kailash Hospital; Patient's family lauds the management
Ten News Network
Noida, 14th September, 2022: Patient Uma Sharma, wife of Pradeep Sharma (Sr. Adv, Delhi Highcourt) met doctors with a minor headache, right arm weakness, and speech difficulties before a Year.
Following a series of brain scans, the patient was diagnosed with a massive brain tumour. The entire family tried to contact the best neurosurgeons nationally and internationally.
But after a special recommendation from Dr. Mahesh Sharma (MP, Lok Sabha), he rushed his wife to Kailash Hospital, Sector 71, Noida, and consulted Senior Neurosurgeon Dr. Shrikant Sharma, who has a track record of successfully managing all types of brain tumours.
Post all tests and diagnosis, the patient underwent Complex Neurosurgery for eight hours.
The patient's post-surgery recovery was remarkable, and she is now back to her normal health and grin, which makes her family very happy.
Advocate Sharma and his family express their gratitude to Dr. Shrikant and the entire aiding team, stating, "Dr. Shrikant provided us an excellent opinion and the date for surgery, for which I am extremely grateful."
"The surgery was meticulously planned and performed in 8 hours, resulting in my wife's miraculous recovery, She has regained 100% of her memory and improved her speech as well," he continued.
He also applauded the staff, remarking, "The staff and management of the hospital are really humble and provided us with a very comfortable zone and best services that I could possibly think of."
Adv. Sharma concluded by thanking the entire hospital's management and doctors for their dedicated efforts in saving his wife from a life-threatening condition and stating that "Dr Shrikant Sharma is the best Neurosurgeon in the Country."
When Ten News spoke with Sr. Neurosurgeon, Dr. Shrikant Sharma, he stated, "Patient Uma Sharma, who used to teach at Amity School, came with weakness in their right side head region and due to that her motor movements got quite low. After further investigation, we discovered that the patient has a massive cricket ball-sized tumour in the left side of the brain."
"We carried out the entire surgery after planning carefully. It was a major surgery that lasted 8 hours and we successfully removed the entire tumour, The patient's post-operative recovery was excellent, and she began to improve and regained all of her motor functions with a clear speech," Dr. Sharma added.
He further highlighted hospital's amenities, stating that it has dedicated Neurosurgical facilities in the operating theatre. "We perform all operations in the exclusive neurosurgical operating rooms and Patients are admitted to the Neurosurgery ICU, which is equipped with the most up-to-date state-of-the-art machineries and gadgets," he Concluded.