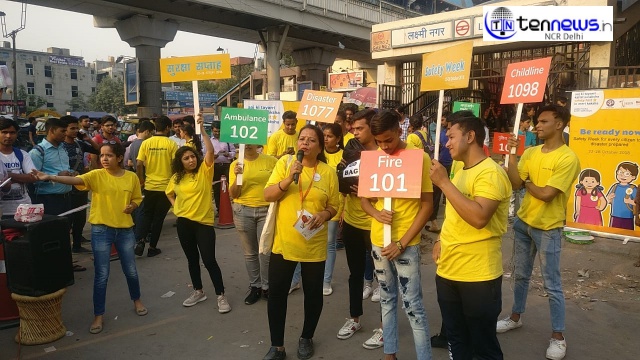 New Delhi: International Day for Disaster Reduction is observed annually on 13th of October with a view to raise awareness about disasters and innovative ways to manage crises. Taking the month of October as a push for disaster preparedness, SEEDS (Sustainable Environment and Ecological Development Society) is observing Safety Week between 22nd to 28th October, with an aim to promote a culture of safety.  The series of interactive activities aims to get people engaged, looking at different innovative modes to spark behaviour change. This include flash mobs, street plays and awareness workshops.
<iframe width="560″ height="315″ src="https://www.youtube.com/embed/sNcGv0woGeo" frameborder="0″ allow="autoplay; encrypted-media" allowfullscreen></iframe>
In order to 'Be Ready Now', it is vital to know the emergency helpline numbers that run 24X7 to assist in the event of specific disasters. The first few minutes are crucial and often people are confused about which number to dial. At the same time, you need to have your 'go bag' ready.  One of the best ways to stay safe is to have an emergency safety kit in place ahead of time. A 'go bag' containing essential materials is a great way to ensure disaster preparedness. This includes first aid, hygiene items, critical documents, dry food and tools.
With the intent to raise awareness on these aspects, flash mobs across popular metro stations in East Delhi like Laxmi Nagar and Nirman Vihar have been taking place since Monday, October 22. As a part of the activity, the team perform a small musical act to grab the attention of the people around metro stations.
Similarly, theatre performances (Nukkad Nataks) and presentations in outdoor public spaces are being held around key locations of East Delhi such as West Vinod Nagar, Kalyanpuri and Trilokpuri. Since Monday, the activity has been able to reach out to eight communities across the area.
 In just 4 days, the Flash Mob and Nukkad Natak activities has been able to reach out to over 3000 people in East Delhi. Considering the huge impact of disasters across India and the underlying risks which aggravate the situation, it is time that each citizen is aware and disaster prepared!