Today will be remembered a historic day in history of independent India with the Government of the day under decisive political leadership of Indian prime minister Narendra Modi scrapping article 370 and 35 (A) granting special status of Union Territory to the state of J&K and Ladakh. This move finally paves the way for the state to be fully integrated into national mainstream providing equality of status and protection of law for every citizen of our country.
The government today moved a bill proposing bifurcation of the state of Jammu and Kashmir (J&K) into two Union Territories —J&K division and Ladakh.
Making the announcement in Rajya Sabha, Union Home Minister Amit Shah said the UT in Ladakh will have no legislature like Chandigarh while the other UT of J&K will have a legislature like Delhi and Puducherry.
Shah introduced the J&K Reorganisation bill.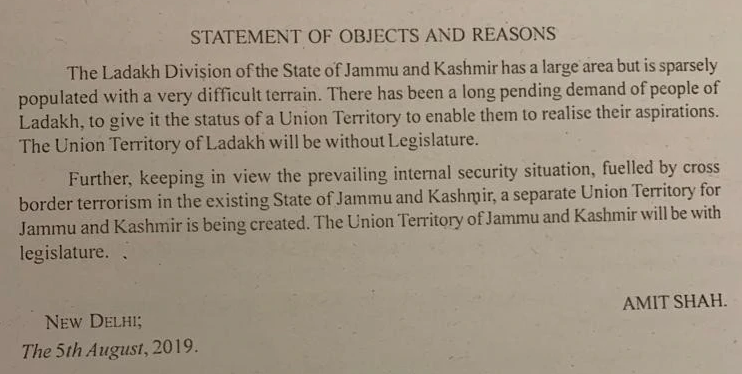 What is Article 370?
Article 370 of the Constitution is a "temporary provision" which grants special autonomous status to J&K. Under Part XXI of the Constitution of India, which deals with "Temporary, Transitional and Special provisions", the state of J&K has been accorded special status under Article 370. All the provisions of the Constitution which are applicable to other states are not applicable to J&K. For example, till 1965, J&K had a Sadr-e-Riyasat for governor and prime minister in place of chief minister.
It may be recalled that Maharaja Hari Singh signed J&K Instrument of Accession on 27th October 1947, Article 370 came in 1954.
What next?
Having had abrogation of the article 370 and 35 (A) in case of J&K executed, it is natural to ask two pertinent questions, namely:
Firstly, how would the Government take the administrative ecosystem in effecting the announcement? In other words, would a constitutional amendment to the Indian constitution be needed to effect today's announcement, and Secondly, would the bifurcation of J&K and its status as a union territory be continued as such or at some later stage, Union Territories status be elevated to the level of a full fledged state.
Whatever be the way to move forward on effecting the new announcements made today into creation of administrative set ups in J&K and Ladakh, two things that will stand out predominantly when history of India is written in future- one the political decision of our prime minister to mainstream the J&K into national flow and courage of conviction of our home minister- Amit Shah, in making this day as firmly etched up to our eternal memories.
Return of peace in valley?
With new writ written on the J&K status vide abrogation of article 370 and 35 (A), it is being widely believed that peace, stability and tranquility would return to the J&K and its national mainstreaming will effectively be concluded. India now stands as a truly integrated entity much to the comfort of many in the valley more particularly to the youth who certainly will stand better and more exposed to educational and job opportunities. There is also bound to be more investments brought into the valley with an investment summit already planned for the month of September in the valley. Modi led government, in a clear indication of its political will, exclusion and complexities related to special powers and status attached to the J&K for many past decades post independence, puts an end to all outstanding issues internally, moving a step closer towards full mainstreaming of the J&K in national flow.
This development of today would have a far reaching bearing on national economy, polity and its social cohesion while promoting a sense of belonging and strengthening our national fabric for a more fast tracked economic development of our nation.