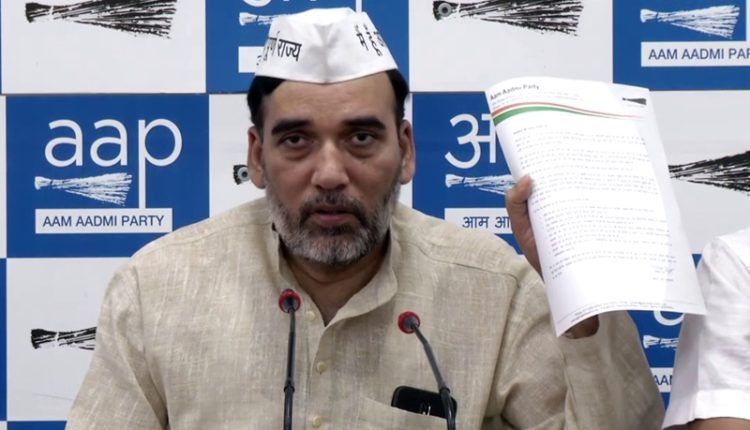 AAP Senior Leader Gopal Rai writes Letter to Delhi BJP Chief Manoj Tiwari on Full Statehood
Talib Khan (Photo/Video) By Lokesh Goswami Ten News
New Delhi, (1/4/2019): AAP senior leader Gopal Rai today hits out at BJP Delhi President Manoj Tiwari for spreading false rumours about the Delhi Full statehood matter.
The accusations comes after Manoj Tiwari in a statement said that, "Supreme Court has refused to give full statehood to Delhi, and challenged him to show which case has been filed in the apex court till now.
While addressing a press conference Gopal Rai said, "That on repeated occasions BJP Delhi President Manoj Tiwari can be seen saying that SC has denied full statehood to Delhi. We have shown to you two days earlier about both the judgments of the court. And asked question from him about his statements. Till now he has not answered the question. So i have written a letter to Manoj Tiwari and in this letter i have asked him that why he and his party has lied to people of Delhi despite of the fact that they have promised to give full statehood to Delhi".
"And now you are giving false statements about the Supreme Court's decision of deniying the full statehood to Delhi. Why he want to make fool of people by giving these type of statements. While the truth is that Supreme Court has not given any judgment on the matter", he added.
With the letter he has also attached the letters of Supreme Court in which the court has not declared any judgements. And if BJP has any kind of letter from the apex court then they should share with us and to the people of Delhi.