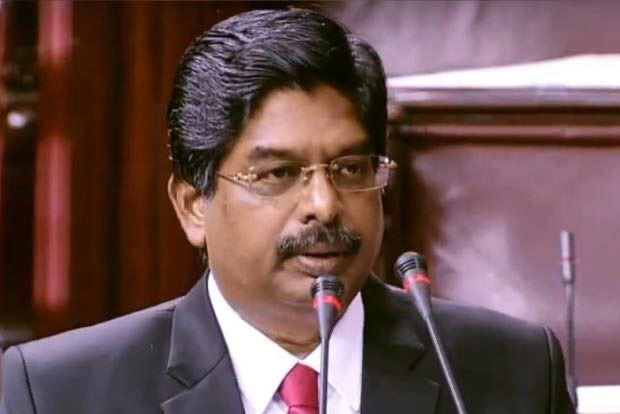 Abolish tolls across the country: DMK RS MP & SC Lawyer P. Wilson in Parliament
TEN NEWS NETWORK
Following is the speech delivered by P. Wilson on Toll Plaza in Parliament – Zero Hour:

Hon'ble Chairman, Sir, I rise to bring to the kind attention of this August House the issue relating to abolishing of Toll Plazas on National Highways across the country. I would like to kindly remind the Hon'ble Minister that I had made a special mention in this August House requesting the abolishing of tolls across the country and collect a one-time fee at the time of registration instead, to ensure that the right to travel which is a fundamental right is accessible and available to all.
On 15.11.2022 I had received a response from the Hon'ble Minister for Road Transport and Highways, in which he had assured that as per 6(b) of NH Fee rule user fee realised, in respect of public funded project, the fee leviable would be reduced to 40% of the user fees. I am thankful to the Hon'ble Minister Thiru Nitin Gadkari ji for his reply.
However, I would like to place on record that this has not yet been implemented causing grave financial burden to those people who have no choice but to use the toll roads and shell out huge money while crossing the toll plazas. Especially those living adjacent to toll roads have to use the roads every day and despite monthly pass available it's still expensive for the common man.
In Tamilnadu I can give two examples where even after realisation of investment cost user fee is being collected for more than 15 years, even though both the sections of highways were developed using government funds at—Paranur and Athur on Tambaram-Tindivanam NH 45, and Nemili and Chennasamudran on Poonamallee-Walajahapet NH 4.
In the said letter written to me the Hon'ble Minister had mentioned that the issue raised by me with regards to toll plazas being located within less than 60kms distance of each other would be resolved. In Tamilnadu out of 48 total toll plazas located, as per National Highways Rules there could only be 16 toll plazas. Thus there is excess of 32 toll plazas. In fact the National Highways Authority of India itself has identified 22 toll gates located within 60 km of the adjacent plaza on 13 national highways in Tamil Nadu and these toll plazas are yet to be removed.
Sir ultimately the lower economic class and middle class are suffering. Small time vendors, lorry operators, and transporters are spending huge chunks of their monthly budgets towards toll. These are people who even pledge their jewels to make ends meet. We should not put the burden of paying for road infrastructure on them.
Sir the problem is not only in Tamilnadu; but it is pan India problem. There are more than 1000 toll plazas in India.There are Toll plazas in which public is compelled to pay toll for incomplete facilities that too at exorbitant rates
To make matters worse, NHAI increases toll fee mechanically year by year. There is no independent regulatory authority which determines the toll fees. The formula adopted to justify periodical increase of toll fees is highly unscientific, has no rationality and is highly arbitrary. An official in the cadre of Deputy Secretary simply applies a mathematical formula found in the concession agreements and keeps on increasing the toll fees mechanically.
Sir, even the State Government's public transport vehicles are not exempted from payment of toll and State has to pass on the said burden on the passengers who are also from economically weaker sections.
Sir, therefore, the time has come where all the toll plazas have to abolished completely as it hampers free movement, development and industrialisation.
I urge the Hon'ble Union Minister for Road Transport and Highways to look into this matter urgently while also providing an update regarding the reduction of 40% of the user fee for National Highways, and consider collecting a one-time fee at the time of registration of the vehicle and abolish all toll plazas.