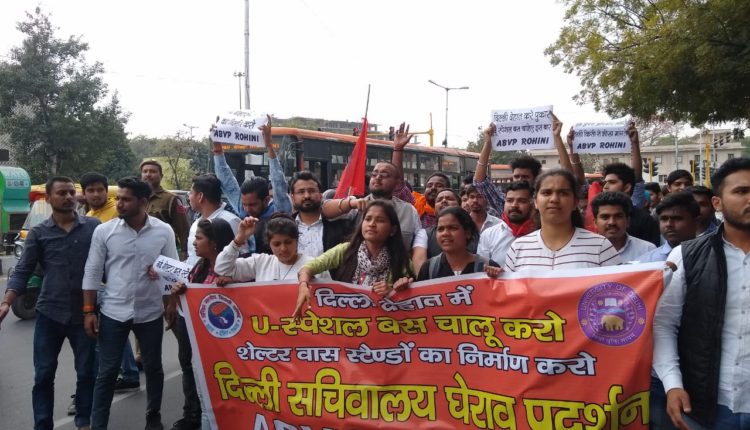 New Delhi:(11/03/2019) On March 11, Akhil Bharatiya Vidyarthi Parishad demonstrated massive protest against Delhi Government and Delhi Transport Corporation for various problems faced by the students studying in off campus colleges of Delhi.
According to students, "it is important to note that the students of colleges located in the outskirts of Delhi State have to struggle daily due to the non availability of U-Special bus facility and for not having a Shelter bus stand."
ABVP demanded to start the U-Special bus immediately, construct new bus shelters at short distances, and meet other demands for better connectivity from the DTC buses of Delhi with the other campuses.
ABVP's State Secretary Sidharth Yadav said, "Due to the poor infrastructure in the Delhi Transport Corporation, the students studying in Outer Delhi colleges and those coming from Outer Delhi to other colleges have to face problems. In August, our delegation met the minister and we were promised that "U special busses" would be started but the delhi government slept again for 6 months which forced us to protest. Girls of Aditi College face security concern and so a "U special bus" is a genuine need. If the govt doesnt take action in the next assembly session then we would do a massive protest outside delhi assembly.
ABVP leaders confirmed that after the demonstration, a delegation met Sanjay Deewan, OSD of Transport Minister in Delhi Secretariat. In the delegation, Rohini division's coordinator Gaurav Channna, Mansi Chauhan and others were present.